2013.05.13 Mon
Ingot, the gold block
Hello all!
My name is "
Ingot
"
My name has an interesting origin...
Look, this is me when I arrived at ARK.
I was skinny but not due to a diet.
I was abandoned in the mountains and did not eat for several days… I was starving…
I was wandering with fear and walking in the middle of the road. That's when Ms.Oliver from ARK passed by.
When she saw me walking on the yellow center line of the street she thought she found "Ingot=a gold block".
"Do I look like… a gold block..?"
Thanks to ARK's staff, I could gain weight and my profile was uploaded on the adoption page. Also, I was taken to an "adoption event" at GREEDOG Kobe.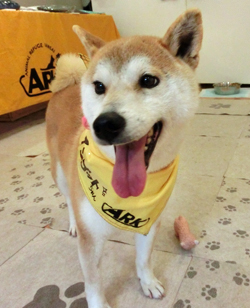 Up until the morning of the event, I had been afraid of human hands. I thought people would hit me with hands… But people were so nice to me and I found human hands were not that bad. I was also afraid to take food from human hands. But seeing other dogs eat some treats from people's hands, I could eat some from the guest's hand.
The event was full of first-times for me.
I was nervous but not too afraid. Many people called me "cute" and I felt the warmth of caring people. ARK staff members said "it was good to bring you here." They saw me change a lot in a day.
I will introduce my buddies who joined the event with me.
This is Miss
Uno
.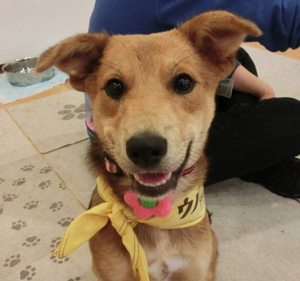 Miss Uno is young and beautiful.
She was so popular and was held by many people.
But she followed the ARK staff member who takes care of her all the time and fell asleep by her side. Such a cute puppy.
This is Mr.
Cadbury
.
He is sociable and welcomed all the guests.
I have to learn some traits from him...
I call him a "sales manager", secretly of course..
And Mr.
Ushio
. He was in the
blog
before.
Look at his beautiful smile! I cannot believe he is already 14 years old.
He did not like other dogs before, but I cannot tell at all now. The staff members said, "Now other old dog control him".
Ushio's fan came from far place just to see him.
What a popular guy, Mr.Ushio!
This is today's cat, Mr.
Cappuccino
. He was also in the
blog article
.
I've heard adult cat tends to be nervous in a new environment. He was frozen like this with these pointed ears the entire time. The staff wanted to show his friendly character to the guests….maybe next time.
The staff told me it was not that busy compared to usual events. Was it due to the weather or because it was a Saturday? Anyways, it was perfect for me, a beginner at the event.
I hope my ARK friends will find forever homes soon. Oh, yes, and for me too.
And what is this round thing? Mr. Ushio and Miss Uno were fighting over this thing… I have no idea..
★
On May 26th. Tokyo ARK Adoption event at Jingumae☆
http://www.arkbark.net/?q=en/node/4219
★
On June 2nd. Osaka ARK Adoption event in Nara☆
http://www.arkbark.net/?q=en/node/4834
| Dog | 19:26 | comments:0 | trackbacks(-) | TOP↑