2013.03.19 Tue
Foster's diary [calico rabbit, Patty]
There is no shelter for Tokyo ARK. Rescued animals stay with foster families.
Today's report is from the foster family of a calico rabbit, Patty. She was taken into Tokyo ARK in December last year. Her first owner couldn't take her when leaving Japan and the second owner had an allergy.
★December 18th "Patty"
A female rabbit, Patty (3 years old), will stay with me from today.
Her body is beige and her face is mix of white and beige. Her back has some bits of black fur. Her eyes are blue. Just after she arrived at my house, she started eating some grass…
She could lie down, stretch her legs, close her eyes and sleep… from the first day.
When I rubbed her forehead, she closed her eyes and let me keep on rubbing her.
Even though she looks relaxed, she must be still nervous. I will give her some time.
Relaaaaxing♪
I love being rubbed.
This is her right side… how does her left side look?☆
★December 29th "The left part of Patty"
She has been doing well since the first day.
Her left side is… a mix of white, beige and black. Just like a calico cat☆
The left
From above…
★December 31st "when being rubbed…"
Patty did not eat much at first but she ate a bit more the past couple of days.
I hope she will eat more and put some weight back on.
She is such a cheeky girl. Once the door of her cage was open and she jumped out and ran around. When she got tired, she just stopped. She can sleep by my side already and enjoys being rubbed.
She is okay with eye drops and can drink liquid medicine. Well, she snorted to express her "dislike" for liquid meds, but no aggressiveness at all.
I was wondering if she did not want to be touched after taking liquid meds, but she was completely fine. She came to me to get attention.
I hope you will get your own family next year.
When being rubbed..
Relaxed(^^)
And she does not care about being stared at by other rabbits.
★January 6th "Putting on some weight & fake sleeping?"
Patty has been eating so well and has almost returned to her normal weight.
I took her to a vet for suture removal after she was spayed. The vet was surprised at her weight gain! Even so, she is still under 2 kilos. She can still put on some more weight.
Later that day, I opened the door of her cage for play-time. But she did not come out…
I knew she was eating, but suddenly she stopped and closed her eyes. As if to say, "Do not disturb me. I'm sleeping." Maybe she thought she had to go back to the vet again. I let her be alone for a while. Later she came out and asked to be rubbed as usual.
"Pretending to sleep…"
★January 14th
It's been 4 weeks since I started fostering Patty.
She has been friendly but still a bit nervous. I keep being patient to let her adjust to life here.
You may not be able to see from the pictures, but she has gorgeous blue eyes.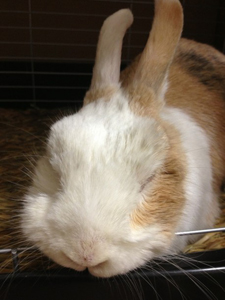 While sleeping, her face is so adorable, like a… rice cake..
Ah, you are taking a picture of me?…
★January 17th
Her long ears and round tail are really adorable.
I think when I was in elementary school my teacher told me herbivores can see 360-degrees… Does Patty know I am taking her picture from behind???
Yum yum…
★February 11th
A few days ago, when Patty was playing in her cage, my rabbit Lapin stuck her head into her empty bowl and made some noise with her rear leg.
It is said that a rabbit does this behavior when they warn "danger" or "anger".
It seems Lapin wanted to complain about her recent food; her food includes more pasture grass than food as she seems a bit fat. She is on a diet.
BUT, Patty seemed to take it as complaint against her. Lapin might be saying "don't mess up my territory!" Patty ran back to her cage and did not come out as often since then.
But again, from yesterday, Patty came out from her cage to play.
It seems that she sees and thinks before she moves. She has never been interested in other rabbits after greetings. She likes people more than rabbits. Whenever she feels like it, she comes to me and touches my hand to get rubbed. When I get tired of rubbing her and I stop, she licks my knee. Then, she asks me to rub anther part, like "next, on my forehead, please". One hour can pass quickly like this!
She is such a cutie when being rubbed.
Licking my knee, saying"next,on the forehead!☆"
★February 18th
She is now eating better than before. She still has no interest in other rabbits and keeps coming to me to say, "rub me---"
Looks serious while trying to break a "hay sofa"…
"Okay, I'm ready!" She lies down to get rubbed…

Patty was outside and super skinny when she was rescued.
We really thank her foster parent. She is not skinny anymore. Such a beauty!
Patty is looking for her new family♪


Would you like to start "『Fostering』?





★

From 2nd Mar to 28th Apr.: ARK photo exhibit at Harmonic house in Hirakata Kagu Danchi☆
http://www.arkbark.net/?q=ja/node/4729



| 未分類 | 19:04 | comments:0 | trackbacks(-) | TOP↑