2013.03.09 Sat
Two years have passed…
Hello all,
It's
Clover
here.
I came to ARK all the way from Fukushima in Dec. 2011.
I panicked when the ground shook back in March 2011. I had another shock when I arrived at ARK. There are many dogs here…. And I hate them!
Back in Fukushima I lived in a house with a big yard. It was big enough for me to run around, so I never had to go out for walks on the street. Due to that, I never met other dogs. I was happy just living with my human Grandpa. He used to throw the ball for me in the yard. I loved that game so much.
After I arrived at ARK I had to learn to wear a harness and how to go on walks. I spent most of my time barking at other dogs and pulling on the leash. It took time for me to learn not to pull.
I look young, but I am 9 years old. People say you can't teach an old dog new tricks. Not true! The staff members praise me for my leash walking now. I have improved a lot.
I really love to play with my toy along with the volunteers and staff members. I really hate to give it up when it is time for the game to end. But, if you really want it, I will let you have it. I don't get mad.
I might feel a bit sad though…
I have mastered all the basic commands of sit, wait and down. When I do "down" I tend to cross my legs which everyone loves. I do it every time just to entertain everyone!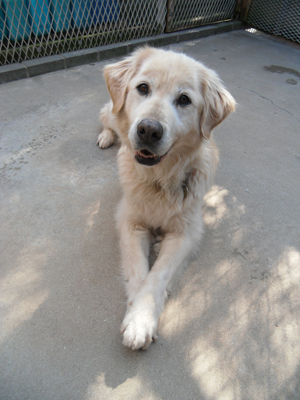 It's been two years since that ground shook and a lot of things changed in my life. How is my Grandpa doing? I've heard he wants me to find a new family. I have learned a lot here at ARK and maybe now is the time for me to move on and even try life in the city? I think I am ready!
I will definitely let my Grandpa know when I find my new family! Please consider giving me a loving home.
Looking forward to seeing you☆
Please check my buddies who also came to ARK due to the earthquake.
Carex
Grama
★
From 2nd Mar to 28th Apr.: ARK photo exhibit at Harmonic house in Hirakata Kagu Danchi☆
http://www.arkbark.net/?q=en/node/4770
★
Mar. 24th (Sun) Adoption event at GREENDOG Kobe☆
http://www.arkbark.net/?q=en/node/1622
★
On Mar. 24th (Sun) Adoption event at DOGSIGN in Jingumae, Tokyo☆
http://www.arkbark.net/?q=en/node/4219
| Dog | 14:58 | comments:0 | trackbacks(-) | TOP↑