2013.02.06 Wed
"THE" Dachshunds
Of the 18 Dachshunds we featured in ARK news, 13 of them left to be with their new families. Thank you for spreading the word and tweeting the news.
In this team, the older dogs are the friendliest and the younger dogs tend to be shy. Probably the older ones had more chances socialize with their owner than the younger ones.
Duff
is super friendly but super skinny as well. He is now with a foster family in Tokyo and is putting on some weight.
But it may take time to get to his ideal weight.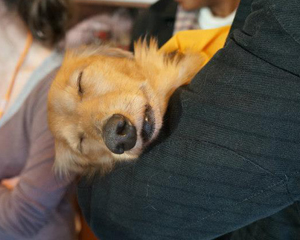 At the adoption event in Tokyo: Amazing that you can sleep in a place where you've never been, Duff…
Four of them are a bit shy. They are in Osaka and are still looking for their new families.
But two of the really shy ones,
Baloo
and
Squib
, were adopted. Maybe their funny faces attracted people? They got many offers for adoption.
Today, we will show you a little bit more about the remaining Dachshunds!
Prism
is the friendliest one. He is good at making friends with people. He shows his joy to the people he knows by moving his whole body♪
Once he becomes hyper, he pulls our clothes to say "play with me!" or "Touch me!". The staff members instantly fell in love with him!
Prism's special trick☆
Red King
is the second friendliest one.
He is a little bit cautious at first and it takes some time to get trust from him. But once he knows you well, he will come to you to get spoiled♪ It is always wonderful when a shy dog opens his heart to you.
Adorable droopy eyes☆
Next is
Tristram
.
He is called the most handsome one and is very quiet.
If another dog goes to get attention, he follows and quietly asks, "rub me".
When the staff members arrive in the morning he gets really excited
"I want to get spoiled, but I am not good at expressing it."
Caraway
is the only female left and the shiest one.
Other female Dachs were adopted quickly, but Caraway had no offer…
And now, she is alone…
Female dogs tend to be strong and adapt themselves to shelter life easily. But it seems to be taking a little bit of time for Caraway. She usually doesn't approach people on her own but she will follow other dogs. It might be good for her to have a family with a friendly dog. In the morning she is excited to see the staff. She even licks the staff member's face
These days she can even ask someone to "hold me" but she won't do it to everyone.
She is changing. We are expecting her good to open up more with more socialization.
"I'm still shy, but I love to be held, actually."
They rely on each other and all sleep together like this.
From the front, Prism, Red King and Tristram.
"Could you please leave us alone? It's family time!"
We are hoping Caraway will be adopted together with friendly Prism, and that Tristram and Red King get a home together. That would be wonderful!
All of them can get along well with other dogs. We can recommend them to the family who already has a dog. A friendly dog in the home would help them adapt to their new life.
When they came to ARK they were cautious during walks. Now they love to go for walks. We assume they experienced many "first times" since coming here. All of them are quiet, use pet sheets and are not aggressive in anyway. They are smart and very sweet. They just need a loving home. All of our staff members really adore them. We are keeping our fingers crossed that they will get their forever homes soon!
★
ARK photo exhibit in Shiga : Open on Sat, Sun & national holidays☆
http://www.arkbark.net/?q=en/node/4627
★
on Feb 9th (Sat) Adoption event at Komazawa, Tokyo☆
http://www.arkbark.net/?q=en/node/2572
★
on Feb 10th (Sun) Adoption event at GREENDOG, Kobe☆ From the team Dachs, Prism and Red King will join!!
http://www.arkbark.net/?q=en/node/1622
| Dog | 12:07 | comments:0 | trackbacks(-) | TOP↑