2012.12.24 Mon
Merry Christmas☆
Merry Christmas everyone!
Are you enjoying your holidays?
It was a cold icy day here.
But volunteers came, people stopped by to bring presents, former ARK dogs visited us and future adopters came to visit the animals… These were all wonderful Christmas gifts for us♪
Thanks so much to everyone who supports ARK!
Snow started falling and it may be a white-Christmas? No, no, we have no time to be in a romantic mood.
At the end of every year we get many requests to take in more animals. We will be full of cats and dogs at the end of this year too.
18 dachshunds (JP only)
are being vaccinated and spayed/neutered. They are ready for adoption!
Dixon
and
Nutkin
live in an outdoor kennel because the indoor kennels are full. They were fixed already. We are hoping that they will find their new homes by the time their Elizabeth collars are taken off.
Sorrel looks so innocent and Mary Jane is a beautiful girl. Both are also ready for adoption♪
(They were both adopted on December 29th
)
And the 6 siblings are growing fast☆
So far, only Frankel (male) has found his new family. The 5 sisters are eagerly awaiting theirs.
Gallorette
is being trained to "Sit" with snacks.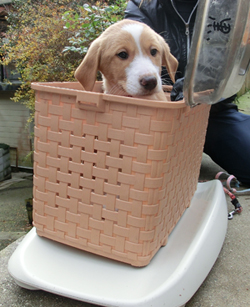 Black Bess
says, "Don't check a lady's weight! "
Moonlight (Rehomed on December 30th♪) has never been timid and came to greet to a bigger dog.
(Senior dog Han-chan is the one who was timid..)
We have many adorable dogs here in ARK.
We are looking forward to your visit during this holiday season♪
★
ARK photo exhibit in Shiga : Open on Sat, Sun & national holidays☆
http://www.arkbark.net/?q=en/node/4627
★
ARK photo exhibit in Nagoya : Only for 4days☆
http://www.arkbark.net/?q=ja/node/4653 (JP only)
★
Jan. 6th, 2013 Adoption event at GREENDOG☆
http://www.arkbark.net/?q=ja/node/1622
| Dog | 09:55 | comments:0 | trackbacks(-) | TOP↑