2012.12.05 Wed
ARK's Eleven
People call ARK and ask us to take animals for various reasons. One of the most common reasons we hear is, "owner living in an apt. which doesn't allow pets." In this case, the owner is told to leave or to send the animals to the animal control center where they will be gassed to death.
The second reason is, "I found a stray cat that gave birth." Spaying is not so expensive when it is only for one cat. However, many people don't spay/neuter and only call us for help when they have ten or more animals.
The cats featured today came to ARK for these reasons. Some are from an apt. which didn't allow pets and others are from a rescued cat that gave birth. Despite the irresponsibility of the owners, the cats are innocent. Cat rooms at ARK are usually full so we want to find forever homes for them as soon as possible.
※The names are from the movie "Ocean's Eleven" because they came as a family of 11 cats
"
Basher Tarr
" with a round face.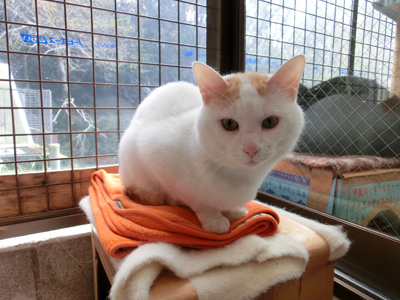 He is just two years old but already he is the father and grandfather to 10 cats! He's the big daddy! He likes to be rubbed but has been known to give a big cat punch when he is not in the mood.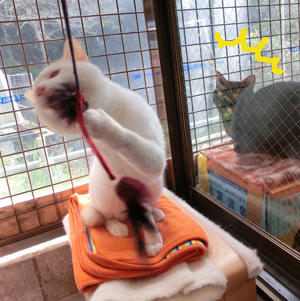 Once he sees a toy, he will go crazy!!! His neighbor is surprised to see his sudden change…
"
Turk
" is Basher Tarr's first daughter.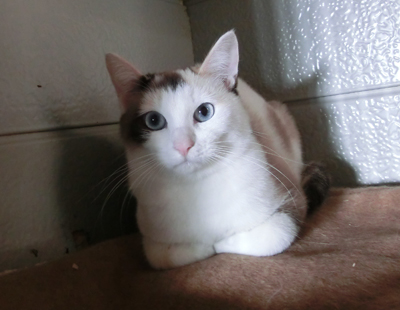 People say Turk is the most beautiful one.
She is shy in the beginning but loves to be rubbed. Once she knows you, Turk will purr and purr for you♪
She does not punch (like her dad does!). She will be fine after she adapts herself to a new environment.
And Basher Tarr's first 3 grand kids.
"
Tishkoff
"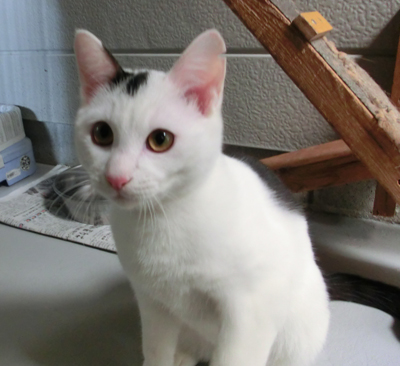 He looks cute and angelic but he can be super naughty when it comes to toys.
He cannot resist toys!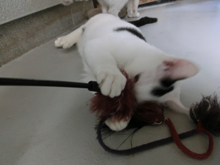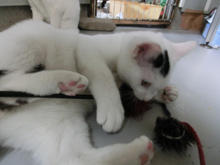 "I cannot stop playing with this toy…"
Whenever Tishkoff sees somebody from his cage, he waits in front of the door. What a cutie!
He will definitely wait for you at the entrance if he is adopted by you.
The sisters of Tishkoff, are "
Reuben
(left)" and "
Virgil
(right)" who is always with Tishkoff.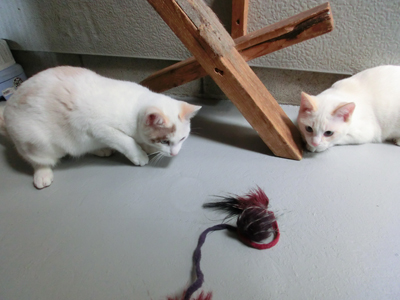 They are already 6 months old but still behave like adorable kittens.
They are friendly and have beautiful blue eyes… We expected them to be rehomed quickly. But no adoption offer has come so far…
Sorry it may be our fault.. We should advertise you more…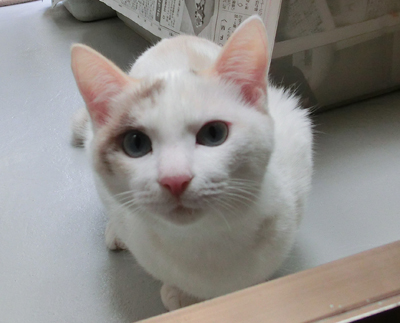 "I am often called beautiful just like my aunt, Turk" by Reuben
"Someone told me to grab this toy." by Virgil
We will feature Tishkoff's cousins next time.
Fewer visitors have been coming to Nose since Dec. started. We are here waiting for future adopters throughout the winter too! Would you like to come play with some cute kittens?
★
Dec 16th (Sun) Adoption event at GEORGE OSAKA☆
http://www.arkbark.net/?q=en/node/2298
★
ARK photo exhibit in Shiga : Open on Sat, Sun & national holidays☆
http://www.arkbark.net/?q=en/node/4627
| Cat | 11:44 | comments:0 | trackbacks(-) | TOP↑