2012.11.21 Wed
I'm Ushio.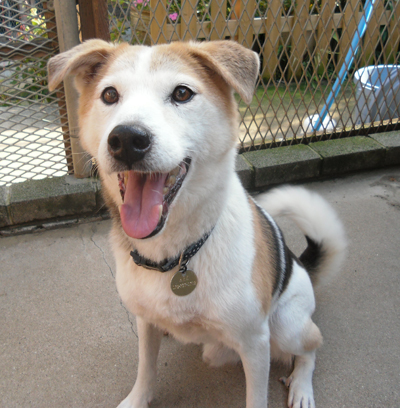 Hello, I'm "
Ushio
".
It's been 2 years since I came to ARK with my mom, Mucchi, and my sister, Mimi. That was when I was 12 years old.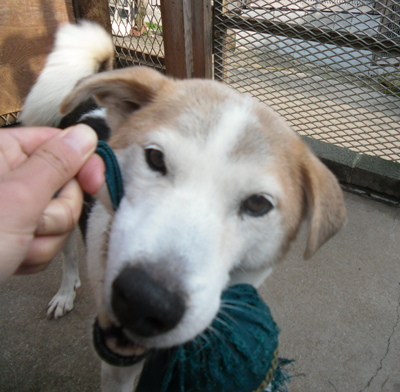 When we came to ARK for the first time my mom looked nervous. But Mimi and I were happy because we thought we were just visiting here for a walk. I didn't mind smelling other dogs around me either. I put my beagle blood to work!
But I was wondering why our previous owner cried and said sorry many times to us. Suddenly he got in his car and was gone. I heard later that our original owner died young and her husband could not care for us all by himself. He had to give us up. My mom was 13 years old at the time and my sister and I were 12 years old. It seems the ARK staff asked him not to give us up, but he just could not do it anymore.
But you know, life in ARK is not that bad.
We get enough food and we go for walks everyday. We also can get rubbed occasionally. Sometimes people play with us with toys! My family and I have been happy here.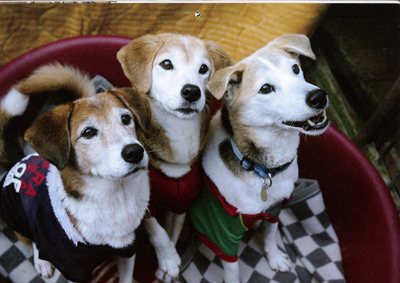 We were the January dogs in this year's calendar.
Soon, Mimi found her new family!
I was worried about her because she had been with us all the time. But I've heard she is living happily with a family that gives her lots of love.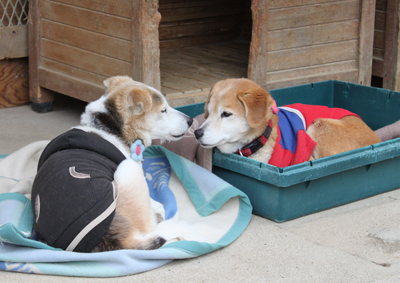 We have been together since birth and talk about many things…
Since Mimi left ARK a year and a half ago, my mom and I have been living together just the two of us.
We love people and are good at walking (we never pull on the leash). We are quite popular among volunteers.
But, we do bark dogs when they pass by our kennel….Hee..Hee…
But my mom, Mucchi, suddenly passed away last month.
She had cancer and I had no idea. She was always calm and she died peacefully.
I guess she gets to eat a lot of good food in doggy heaven now!
Like my mom, I am a big eater!
Now I am all alone in my kennel. I don't like other dogs and I bark at them. This is because I have never been alone since I was born. I feel very lonely.
I always had my mom beside me. I don't know how to manage this cold winter without her...
I always lose weight during winter anyway. The staff members say, "You should find your forever home as soon as possible!!!"
I'm pretty old but someone will welcome me as a new family member, won't they…?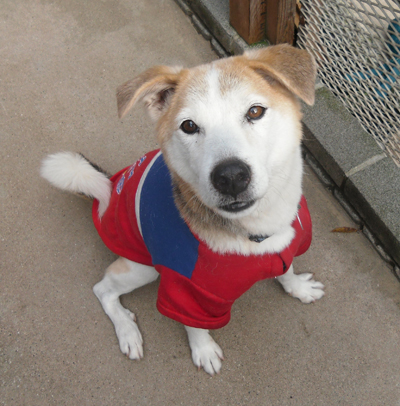 Even wearing clothes, winter here in Nose is tough!
★
On 25th Nov. Osaka ARK adoption event at GREENDOG Kobe ☆
Ushio will not join, but other dogs will be there!
http://www.arkbark.net/?q=ja/node/1622
★
On 25th Nov. Tokyo ARK adoption event at DOGSIGN Jingumae☆
http://www.arkbark.net/?q=ja/node/4219
| Dog | 13:27 | comments:0 | trackbacks(-) | TOP↑