2012.11.05 Mon
Foster's diary [Is Athena shy?]
There is no shelter for Tokyo ARK. Rescued animals stay with foster families.
Today's report is from the foster family of Athena. She is a stray dog who moved from Osaka to Tokyo on Oct. 26th.

★29th of Oct★
When I came to the adoption event yesterday to pick up Athena, one of the volunteer pointed to where she was: in a crate! She didn't come out of the crate the entire event because she was too timid.
Okay, I will take care of this super shy girl…
But there was no need to worry about her. She walked in the rain, had her paws cleaned, explored the house, ate, and played. A really good start. She loves being on carpet. Our first night she didn't cry at all.
Day 2
The first morning she missed the toilet sheet by a few inches. It was a good attempt! It was a sunny day so we went for a walk. People told me she is shy and timid...
What kind of place is good for her? Ah! The cemetery! It isn't crowded, has no cars or dogs, and has lots of greenery. I could visit my ancestors as well! She was fine in the car. She seemed to enjoy the greenery at the cemetery. Maybe it reminded her of Nose.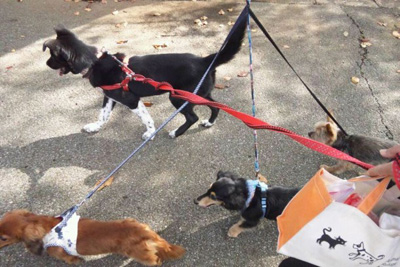 When she got back home, she played with our dogs, (also from ARK) Meu and Rob.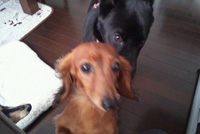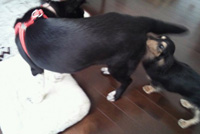 Then, she waited for food in front of her bedroom☆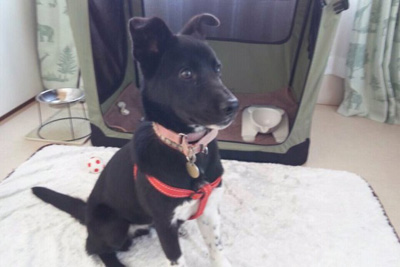 ★30th of Oct★
Early in the morning we went for a walk around the neighborhood. She cannot walk in the cemetery everyday! Then we heard the sound of footsteps… loud, fast, high-heeled footsteps!
Athena turned around and tried to run back to our house… Treats did not work for her then!
(Lady, please walk quietly…)
In an attempt to get her used to "sounds from daily life", we introduced the vacuum cleaner!
What? What is this…?? She was afraid of the vacuum as we expected. But she found our dogs calm, and it seemed she understood this machine was harmless. She started playing with a toy.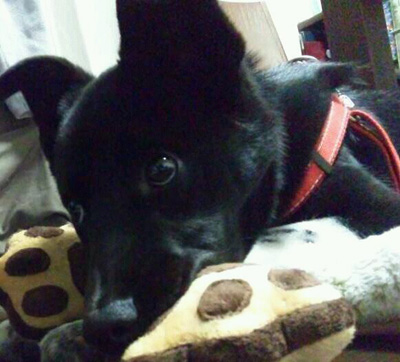 ★31st of Oct★
We went to a park for the first time. She tried to dig but stopped when told "NO." She was fine around small children. However, she hated the scooter. I may be called a doting parent, but I can say that she is smart! Now she can follow the commands, Sit, Down and do eye-contact.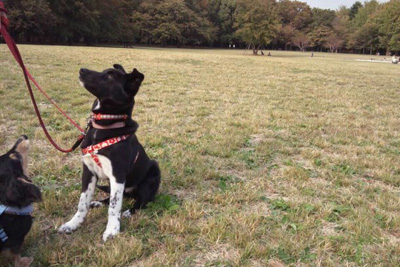 Can you believe how much she has changed?
Our animals do not have a chance to see many cars or bikes at the shelter in the mountains. They never get to experience the sounds from human daily life either. It is such a great opportunity for them to live with a foster family.
Former stray dogs tend to rely on other dogs. Being with other dogs in the house is a great experience for Athena. The dachshunds (also from ARK♪) helped Athena get used to life with the foster family.

Thank you so much to all the foster families! Your help means a lot!
Why don't you start "Fostering"?

★
On 10th Nov [Tokyo ARK] Adoption event at Dog Life Design ☆
Please visit the event to see how Athena has changed!
http://www.arkbark.net/?q=en/node/2572
★
On 11th Nov [Tokyo ARK] Adoption event at Dog salon Kugenuma in Fujisawa☆
http://www.arkbark.net/?q=en/node/4605
★
On 11th Nov [Osaka ARK] Adoption event at Field Note in Nara☆
Ms.Oliver will have a small presentation from 11am. Please come join us!
http://www.arkbark.net/?q=en/node/4543
| Dog | 11:27 | comments:0 | trackbacks(-) | TOP↑