2012.10.15 Mon
Being shy is her character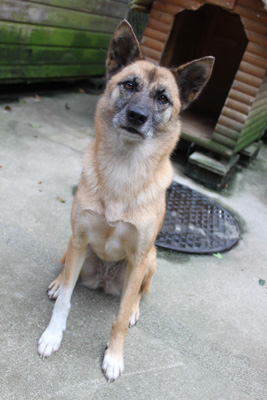 Her name is "Pui Pui" and she is a 9 year old female.
She was abandoned in a cardboard box with her sibling, Curvy. They were one month old back then.
This is a precious picture of when she was a puppy!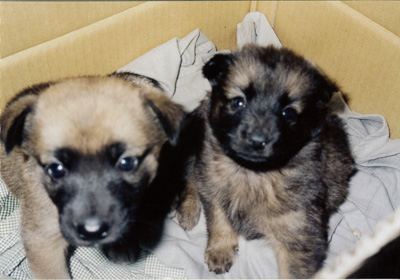 Left: Pui Pui , Right: Curvy
Fluffy Curvy was adopted when she was 4 months old.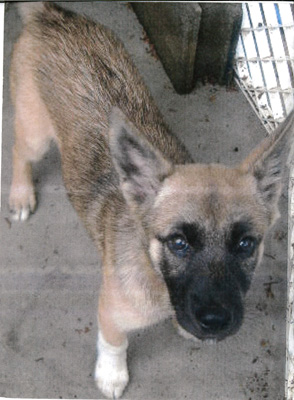 Pui Pui has been living in ARK since she was rescued.
She loves strolling along the mountain roads and often picks up a long tree branch to carry as she walks.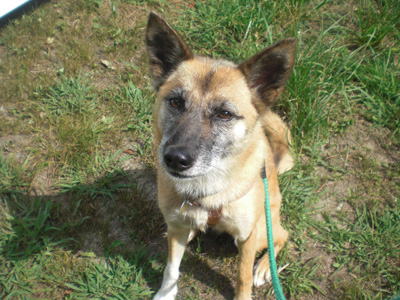 Several families have been interested in her. They liked her cute black nose which is classic in mix breeds.
But Pui Pui is super shy… Her shyness has prevented her from being chosen.
Everybody prefers friendly dogs… we understand that..,
So, nine years have passed since she was found.
We see some gray hairs around her black nose.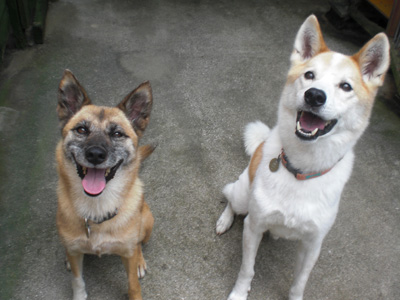 She lives with her long time roommate,
Tintin
.
It might be difficult for Pui, who only knows ARK, to start living in a city.
She panicked once on the street on the way to the vet despite being with her trusted ARK staff member. We do not plan to push for her adoption.
Although she is shy, she remembers people that she met before. Once she knows a person they can have a great time together on her walk. She is very spoiled by the staff and always sticks to us when we are in her kennel.
We have so many shy dogs like Pui Pui.
Friendly dogs are adorable, but when you can get the trust of a shy dog like Pui it is such a wonderful feeling.
If you would like to feel that joy, please come to ARK and volunteer.
The more you visit them, the more the dogs will welcome you.
We recommend future adopters to come here several times as well. You can see how the dogs change and how they want to be with you.
And it would be grateful if you see shyness, fear, negative points are also the dog's characters.
We received news that Pui Pui's sibling Curvy passed away due to heart disease this spring.
Pui, you should live long for Curvy too!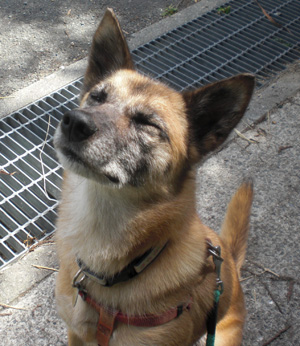 "All righty
"
| Dog | 11:40 | comments:0 | trackbacks(-) | TOP↑