2012.10.07 Sun
Cassandra, looking for his new family
Always around 150 cats are living in ARK.
Usually, several cats who get along well each other are together in one cage. But some cat gets stressed if he lives with other cats.
In that case, the cat lives in a single cage. But we do not have so many single cages. We struggle to find okay matching for sensitive cats to live with other cats.
If future adopter plans to have one cat only, we introduce a cat who likes being alone. But this doesn't mean the future adopter would love that cat.
So, this time, we will feature such kind of cat "
Cassandra
"!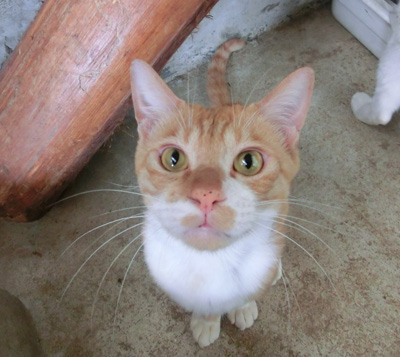 "Ah? Is that me??"
Cassandra was rescued on a street of Osaka-shi. He was super skinny and fell on a street.
If it were a couple of days later, he would not be able to survive.
He was not cautious to people at all. It was obvious that he used to be living with people. He seemed being abandoned and was starved as he did not know how to get his food.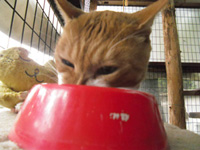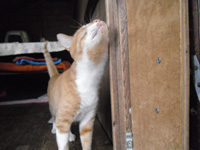 "That's why I am so serious about food" "Woooo, I am full☆"
Cassandra is probably 2 or 3years old.
After he gained his physical strength back and got spayed, he moved to house of generous
Tokugawa family
.
Tokugawa family were kind enough to have Cassandra playing with a toy innocently.
"I'm Cassandra" "I'm Oshin. Nice to meet you♪"
We thought he would be okay to live in this room. But he loves to get spoiled and stressed out not to get attention although many people were passing by. He started attaching other cats.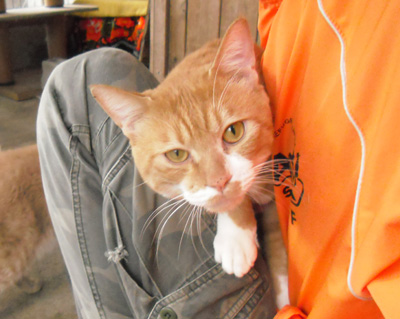 "These laps are all mine!"
If he attacks others, it becomes other cat's stress. Situation became not good for all…
Therefore, we made a special space for him in this room.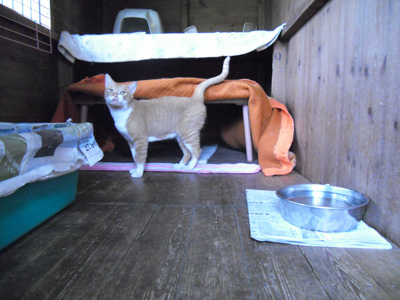 "Isn't it a bit dark here..?"
This is not a complete solution. His stress continues and we cannot keep him like this forever.
The best solution is finding a new home for his own.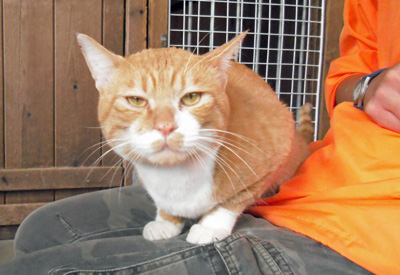 "Coz…. I LOVE people.."
Cassandra loves people and purrs to get more attention once he is held.
He is so calm that he lets us do nail-cut or medical treatment.
He also loves playing with toys.
He really loves people and not sensitive to environment change. We can recommend him to the first time cat owner.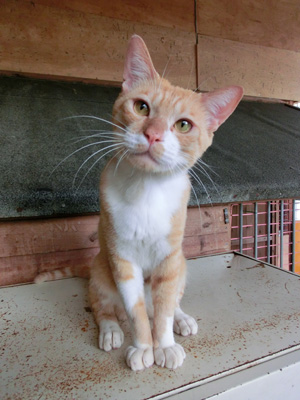 "Would you please welcome me to your family??"
If you are thinking having a cat in your family, please consider Cassandra as well.
We are so sure that he would be the best add to your family!
If you are interested in meeting him, please contact ARK in advance (ark@arkbark.net). He sometimes stays at staff member's place.
Not only Cassandra, so many cats and dogs are waiting for you to meet♪
http://www.arkbark.net/?q=en/node/80
| Cat | 17:19 | comments:0 | trackbacks(-) | TOP↑