2012.10.02 Tue
Adoption event report☆at GREENDOG on Sept. 30th (Sun)
We had an adoption event at
GREENDOG Kobe (JP only)
on September 30th.
We were worried whether or not anyone would come due to the typhoon… But, on the contrary, so many visitors gathered that day.
Thanks so much for coming!
This time the participants were…
Libra (JP only)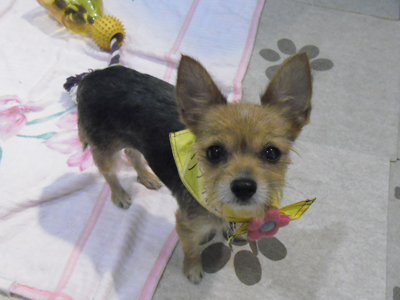 She is one of the 14 Chi-Yorkies (Chihuahua x Yorkshire terrier) recently rescued.
Lebra is a bit shy at ARK. But she tried to approach visitors at the event.
She often barks over the fence at ARK. But this day she was quieter. She has a bit of a tough attitude toward other dogs. She barks at larger dogs like Opel and even to puppies like Orbit.
Lebra did not find her new family at the event. But later, one family came to ARK and adopted her! She left ARK for her own family today!
Hydra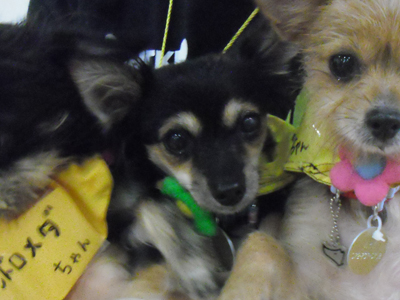 Hydra is from the same rescue.
She has never been shy and she enjoyed the event.
Ah, but Hydra, don't climb up on the table okay? You "look" so dainty. Let's learn how to behave like a real lady.
Andromeda (JP only)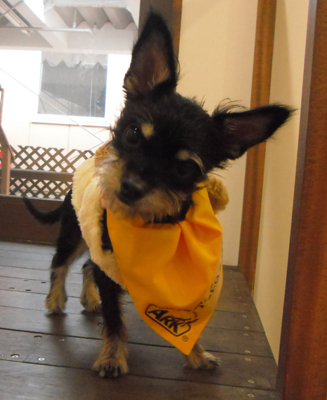 She is also from the Chi-Yokie rescue.
When the shop was really crowded she hid in the corner. Aside from that, she enjoyed playing with Hydra.
She was adopted by a staff member of GREENDOG!
The staff member already had an adoption interview at ARK and was just waiting for the perfect match. Today was a lucky day!
We are looking forward to seeing Andromeda at future events here♪
Orbit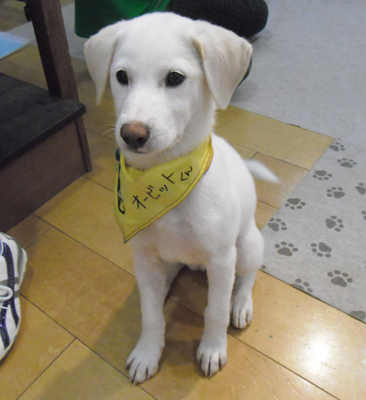 It was Orbit's first experience in "the big city." Being from a stray mother we expected some hesitation on his part but he had a good time. He never terrorized the cats and he used the toilet sheets correctly. Great job!
Only one problem…. He managed to find an expensive bag of dog food and gnawed the bag! You must have good tastes!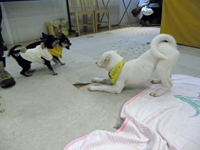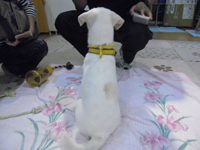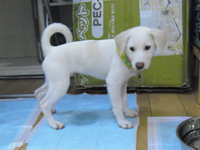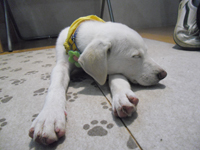 Opel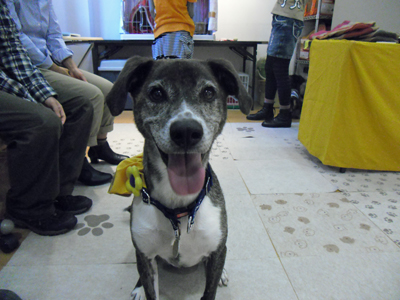 Opel lives in a private kennel in ARK because he tends to have problems with other dogs. However, there were no problems today. He did not get upset when the Chi-Yokies barked at him. But, he didn't like the puppy Orbit so much. He was ok with small dogs (or females).
He loves people. So he was happy to play with visitors and get stroked.
Parade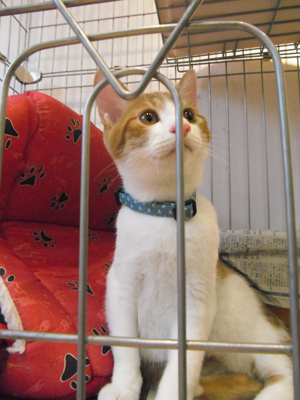 Parade has never been shy to people or afraid of a new place. He could play with toys, ask visitors to scratch him through the fence, and he greeted Orbit. He could relax and be himself.
Of course he ate his meal perfectly. He would be a super easy cat to take care of at home!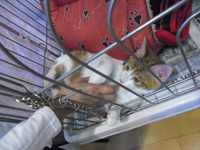 Pavo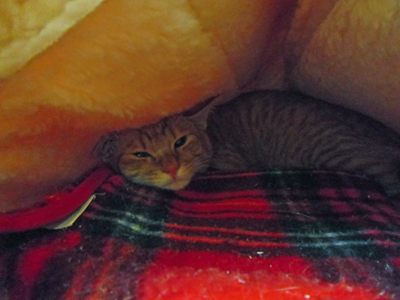 Pavo, was grumpy and hid in his blanket bed.
He was pouty, but he was also a big eater. He could finish all his food.
"You should be friendly, Pavo!"
BUT! A family visited ARK today fell in love with him. He is rehomed!
Considering his slow movements, his new family will name him "Matayoshi" (after the Japanese 'slow' comedian)
Pioggia
was adopted together with him. Will he also be named after a comedian??
The adoption event closed earlier than planned due to the typhoon.
But we were happy to have so many visitors. We made some good matches for our animals.
Thank you so much to all the visitors and to GREENDOG!
We will be back on November 25th!!
★Autumn Event schedule★
★
ARK Calender2013, On sale!
http://www.arkbark.net/?q=ja/node/4415
★
Kyoko Harada's photo exhibit is held at MAGATAMA in Tamatsukuri OSAKA. You can get the Calendar there too.
http://www.arkbark.net/?q=ja/node/4492 (JP only)
★
Oct 8th: Adaption event at DLD in Komazawa☆
http://www.arkbark.net/?q=ja/node/2572
★
Oct 21st: Adaption event at George OSAKA☆
http://www.arkbark.net/?q=ja/node/2298
★
On 11th Nov: ARK Support Fair at FIELD NOTE in Nara♪
http://www.arkbark.net/?q=ja/node/4543
★
On 18th Nov: BBQ Party in Sasayama
http://www.arkbark.net/?q=ja/node/4484
★
ARK Japanese Facebook Page started☆
http://www.facebook.com/animalrefugekansaiARK
| PR/Event | 15:19 | comments:0 | trackbacks(-) | TOP↑