2012.09.04 Tue
Foster family's diary [Cronos ]
There is no ARK shelter in Tokyo. So Tokyo ARK asks foster families to keep our animals temporarily.
Today, we share the diary from the foster family of Cronos. Cronos was the most timid one in his siblings and moved to Tokyo from Osaka on 27Aug.

★"Cronos" on 27th Aug
New comer, Cronos(^v^)
We were told that he was super timid. So we left him alone in a room first to get used to the new environment. He must be tired after a flight from Osaka.
..Ah? a cat?
Carla
found Cronos first and growled.
Cronos came to her but was growled again.
"Arf!!!"
He was growled a couple of times, but tried to get closer
Then, 2 dogs appeared!! (Imagine, how he felt about this!)
Two dogs greeted Cronos and he got along with them so soon.
These days even Carla got interested in Cronos's tail…
Now they all became good buddies.
Back to the first day's story, Crono started playing with a cushion. I gave him a toy and together a bit, but stopped as he must be tired. Let him find a comfortable place to take a nap.
We walked in a garden a little bit in the evening, and slept after the evening meal.
The first day closed after the toilet training. Without problems!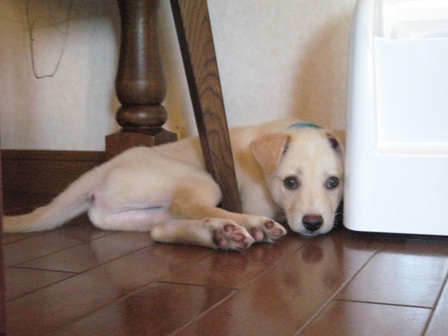 That cat growled at me.. is this a scary place here?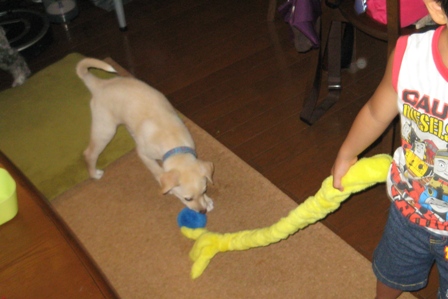 Is it okay to play? No harm?
★"Socializing training" on 28th Aug
Today, he explored the outside of the house.
To get him used to the sounds, I brought him out to the entrance during the time elementary school kids going through.
Probably he liked glasses more than kids. But peeked from the fence to see kids and motorcycles.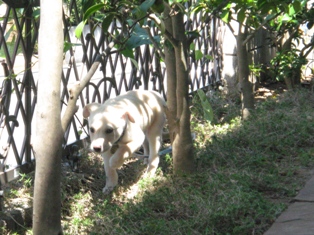 Okay..run a bit?
Oh, that is so.. many…
★"Keep studying" on 29 Aug
I feel like Cronos got bigger since he came to our house? Yeah, of course not but…
It's good to see him playing with others a lot. But the puppy does not know how to control his energy during playing with other dogs.
Warned his Play-bitting. He understands the command "No!".
He attacks other dogs with his full-power, but tried to see how Carla feels when he wants to play with her.
To play with Shelly (male, Schnauzer), he has to show the respect first.
But Shizuku (dachshund, adopted from ARK) is not easy.
She is usually generous, but got mad as Cronos tried to ride on her and bit her back hard…
She was mad at him, saying "I don't like the one who is rude to the lady!!!"
Shizuku is small so maybe Cronos thought he could win… I sometimes stops them.
Gradually studying not to bite during playing together. Shizuku will be calm down soon..?
He also tries to use the toilet sheet most of the time.
He can sit perfectly following the command "Sit!" with a finger♪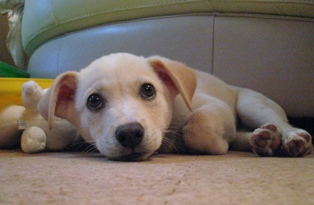 I just wanna play, you know..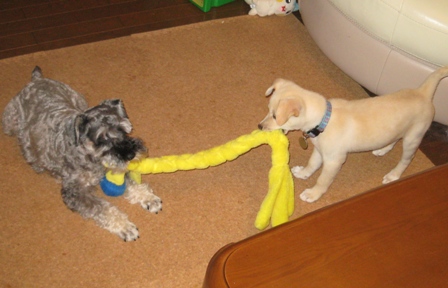 Pull time♪ I'm gonna beat you!
His siblings were stronger than Cronos. He was afraid of adult dogs in Osaka shelter and pretended "I'm okay only with people, not dogs"
We were worried about him and asked the experienced foster family.
His foster family already has dogs and children too. It will be a great experience for Cronos to spend time in this wonderful environment.

What kind of family would adopt him in the future?




Thanks for the foster families!
Would you like to start "Fostering"?



Cronos's sblings,Gucci, Kojak, Vegas, Taitan, Teia, Orbit are also ready for adoption!

★
★ARK Calendar 2013 Pre-Order Now !!!
http://www.arkbark.net/?q=en/node/4415
| Dog | 17:43 | comments:0 | trackbacks(-) | TOP↑