2012.08.06 Mon
London☆Rehomed!
Thanks to all who were worried about
London (Shih Tzu)
. She finally found her new home!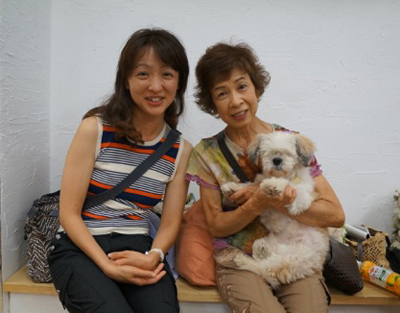 She was rescued on March 6, 2012. Her owner could not care for his dogs due to dementia.
So many things happened during the past 5 months.
London got a trimming at ARK. It was the first trim in quite a few years.
Also she had to have surgery to remove both her eyes. She had already lost her sight and the eyes were atrophied.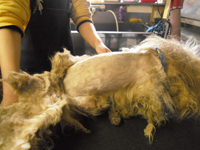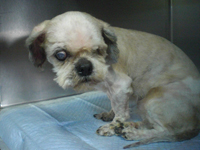 Aside from losing her eyes, her health was better than the 6 younger dogs we rescued with her. She is calm and we thought she was the best among these Shih Tzus.
However, it is not easy for a blind 12 year old dog to be adopted. We really wanted to give her a chance to have a peaceful life with a family again.
So, we looked for a
foster family for London
.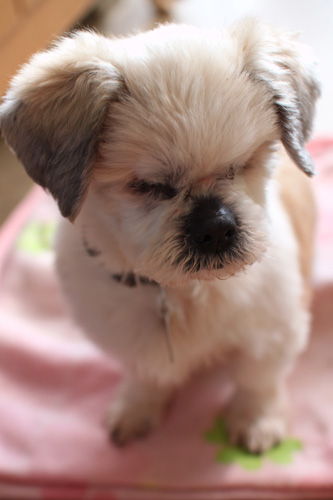 A lot of people tweeted and spread the word. A couple of families asked us about London.
In June, London flew to Tokyo to live with a foster family.
In the foster family, she started showing her real character which was not seen in her shelter life.
At the shelter, London was in the staff-room.
She was always sleeping on her favorite mat despite the busy people traffic around her. The news about her at the foster home reminded us of the difference between the family home and the shelter.
At Tokyo ARK staff's house.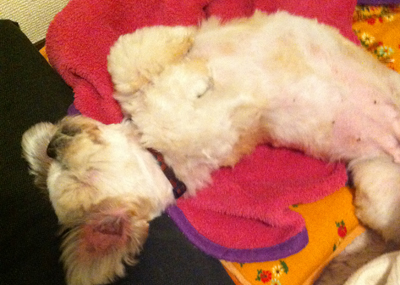 Osaka staff members were surprised to see her change and were a little jealous!
This picture makes us smile even now.
At the foster home:
When she smells food, she comes to the kitchen to beg for some!
The one next to London is also from ARK.
She was rescued from the breeder who went bankrupt due to the earthquake last year.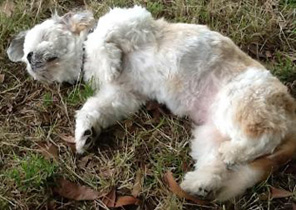 Thanks to the foster family, she was becoming bright and cheerful London.
During the time the foster family was on vacation, London was taken care of by the foster's mother.
London became more active during the time with the foster's mother.
They played tug and slept together under the same blanket. She also got more strength on her back legs due to more exercise and playing.
http://youtu.be/uI_mJOrJDdE
She became something important to the mother too.
Then, she became a real family member for the foster family.
She got the star-shaped gold nametag that only adopted dogs from ARK can get.
For London, it was worth more than a gold medal!
Congratulations, London!
It must have been a very busy 5 months for her.
She was great to go through it without health issues despite her handicaps: age and blindness.
We thank all of you who supported London.
Thank you very much for your great support!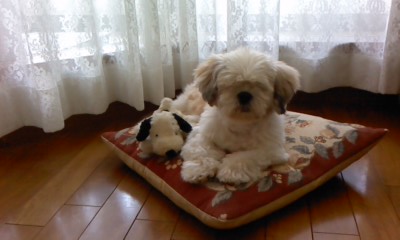 "Thank you, everyone, I'm really happy☆』
★
London's son "
Frum
", grandson "
Marton
", and "
Sazak
" in Tokyo are still looking for their own families!
| Dog | 16:23 | comments:0 | trackbacks(-) | TOP↑