2012.06.26 Tue
Foster family's diary [Sazak the Shih Tzu]

There is no ARK shelter in Tokyo. So Tokyo ARK asks foster families to keep our animals temporarily.
Today, we share the diary from the foster family of Shih Tzu, Sazak!
★"Sazak" on June 18, 2012
Sazak had been busy, but could finally relax today.
She already became good friends with our children and our two dogs. The three dogs always hang out together.
Each of them has their own way to relax.
Fostered kitten, Karla, is curious but still a bit afraid of the newcomer Sazak at the same time.
Sazak lies down in sight of Karla. It seems like she is quietly waiting for Karla to get used to her.
In the evening, she runs in the garden and then watches the passersby at the entrance.
She seems to love being outside♪ She did not want to come inside of the house. And she wagged her tail whenever somebody came on the doorstep.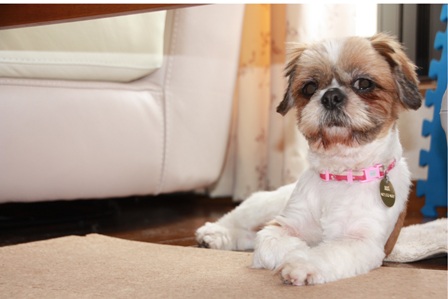 Mission completed! After the checking out the room, I can finally relax♪
★"Play with the toys!" on June 21, 2012
We went on a patrol-walk with Shelly (our dog) and Sazak as my daughter returned home from school.
Elementary students surrounded the two dogs, but Sazak quietly let them stroke her.
She greeted them without fear when she was surrounded.
She often follows our kids or watches them at home.
She also gets along well with a cat! Our cat came to play with Sazak's tail.
She did not pay any attention and let the cat play with her tail.
We've heard that Sazak bites a blanket*, but she hasn't done it so far.
(*At the Osaka shelter, she ripped up pet sheets…)
She found a toy rope somewhere in the room and started chewing it… She likes playing with toys too.
Kurumi (also adopted from ARK) took Sazak's toy. Kurumi watched Sazak play with the toy. When Kurumi got bored she left it and Sazak took it again.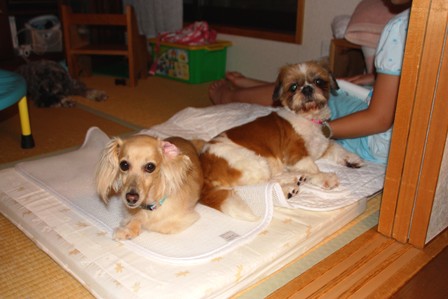 Already they are best friends❤
Soon after this shot, our cat came up in my daughters lap(^◇^)
★"Cleopatra or Yang Guifei..?" on June 24, 2012
We take a shower with the dogs(^◇^).
Sazak's needed a bath a week after she came to our house. During the shower, she waged her tail. And while we bathed her she calmly looked around the tub.
She was really happy when we dried her with the towel. She was really friendly after that.
It seems she completely relaxed, and we became much closer.
… And then, Sazak's posture these days is…"lean on people".
Recently she really loves to lean on us in this very relaxed way. She looks very comfortable!
This one is the best! Because it doesn't move! Oh, you like it too?
She found a toy and had a huge smile on her face!
Looking at the camera and still smiling!!
You cannot see it from a picture, but she showed the toy to us and wagged her tail.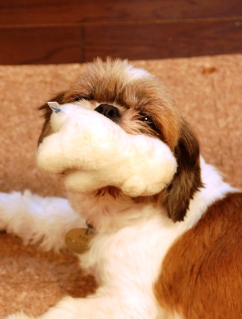 Found it❤Yay♪
It is a great opportunity for the animals to spend time with foster families as it will be almost same as the life with adopters. We can easily recommend the animals once fostered.
And more than that, the animals become calmer and more playful than when they are in the shelter.
We cannot say thank you enough to the foster families.
Thank you very very much!

If you are interested in fostering, please contact Tokyo ARK.
| Dog | 15:08 | comments:0 | trackbacks(-) | TOP↑