2012.06.20 Wed
A magic lamp?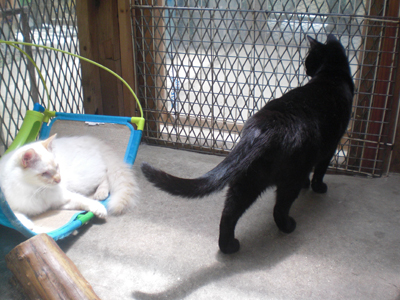 Didn't you leave for the big city
, Po-chan? Did you come back to Osaka?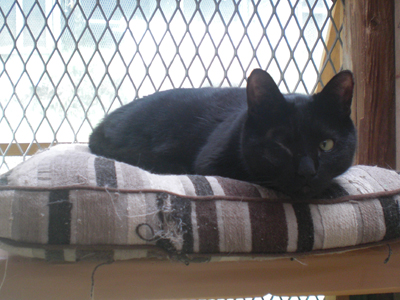 Ah, sorry you are the newcomer,
Lamp
, with a single eye!
We were a little bit shocked to see your damaged eye due to glaucoma when you came to ARK. But you look beautiful now♪
Just after you came in, you let us hold you. You were so popular among the clinic staff members.
The room where Lamp will stay is, yes,
this room
. The roommates are different now. So let us introduce the current members!
Nana
, be nice to Lamp!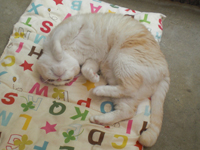 Nana, "okay, let me take care of the newcomer!"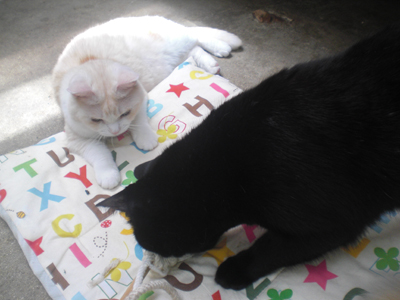 Conan
is shy to people, but he is used to having a new cat with him.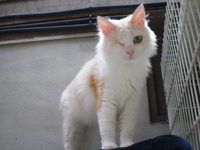 Ren
looks unconcerned...
But she is interested in Lamp's food in the cage...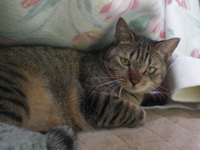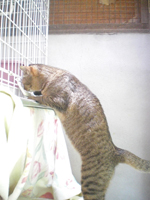 And...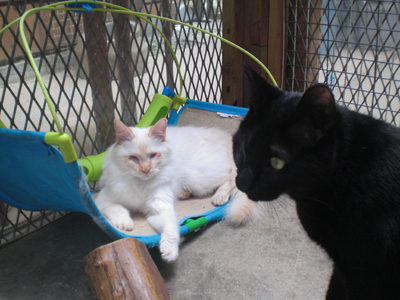 Blanc
looks pouty because of the newcomer.
Actually, he was just rehomed to Tokyo!!
Bright Blanc has adjusted to life in the new home so quickly. He plays with toys and climbs up the shelves as if he is not blind.
We really appreciate the adopter who chose Blanc.
Cats with disabilities live in this room.
Some cats in this room have been rehomed these days.
One of the reasons is their wonderful character, but the other reason is because more people are learning about adopting handicapped animals. In England, where animal welfare is more advanced, handicapped animals tend to be adopted quickly.
We hope that our handicapped animals being adopted is a sign that things are changing here.
Great chances will come for Nana, Conan and Ren soon with the magic of Lamp?
Good luck on looking for the adopter in Tokyo,
Hikaru
and
Po-chan
!!
| Cat | 15:53 | comments:0 | trackbacks(-) | TOP↑