2012.06.19 Tue
Adoption event report☆at George OSAKA on 17th Jun. (Sun)
We had an adoption event at
George OSAKA (JP only)
on 17th of June (Sun).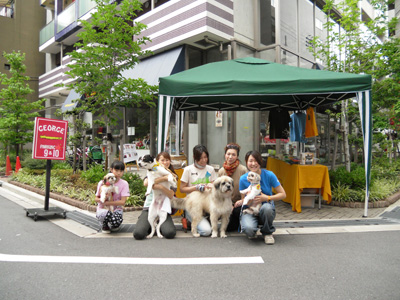 We arrived there early and went to Utsubo Park for a walk.
Frum
and
Satton
are senior dogs, but they walked briskly.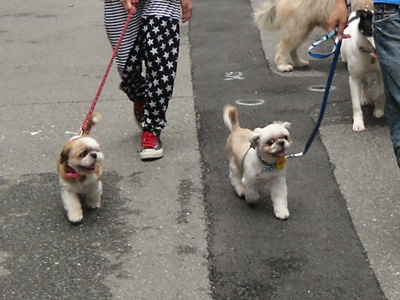 We posed with some beautiful roses in bloom.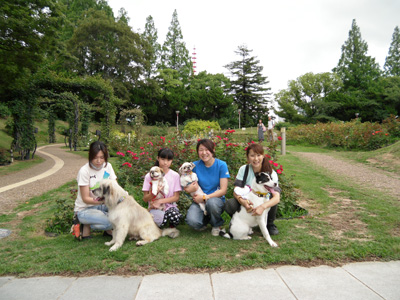 Maru
is a shy boy, but he could not take his eyes off staff member's lunch box.
He could walk well in a busy city. Time to graduate from ARK?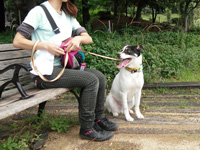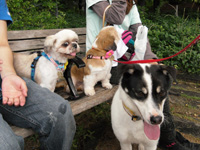 Well, the adoption event itself was…
Pretty quiet this time.
Because of the cloudy sky? Not many people were walking on the street…
But this was a great chance to see our dogs/cats behavior.
★Frum★
Frum has never been shy and he always goes his way.
Whenever visitors came in, he welcomed them. Whenever someone got a treat, he would come too. And whenever a kitten meowed, he would come to check. He was doing everything on his own.
Shampoos and medical treatment gave him beautiful fur. He is ready to be welcomed to a new family!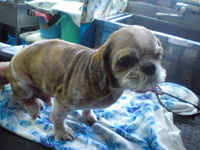 (Frum got a haircut just after coming to ARK)
★Satton★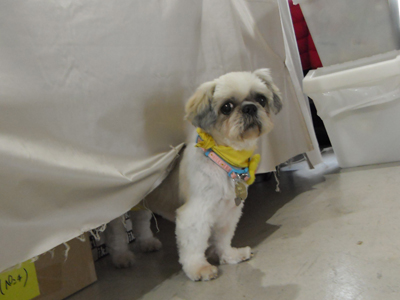 Satton came from the same home as Frum.
He is a bit shy, but he loves to be spoiled.
We often found him behind the curtain. Everyone tried to get him back out, "no service there, Satton!".
You will know how good they are if you meet them…!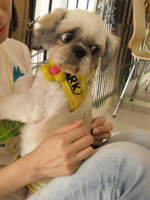 (Satton loves to be held, standing)
★Meat★
Today's hero was Meat!
Since he came to ARK, he has been living in a back kennel. But recently, he moved to the front kennel.
From his behavior in the back kennel, our impression of him was that he always barked. We were wondering if he could behave well at the adoption event. But he was a super good boy♪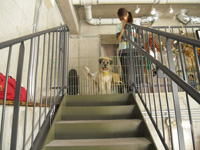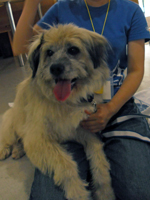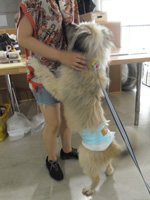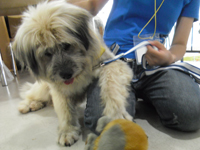 Meat greeted every visitor and climbed up to the visitor's laps. He was so busy until the end!
He was not upset when someone took his toy while he was playing with it. He was also calm while being held. (well, a bit heavy though..) Sorry, we did not notice that you are such a lovely dog to recommend to the future adopters.
This was the best thing we found out at the event!
★Maru★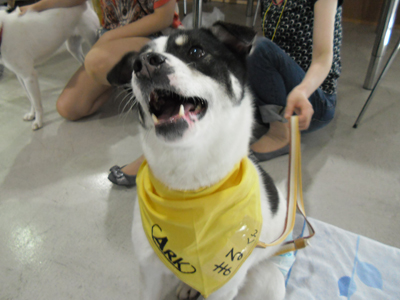 How many times have you joined the adoption event?
Maru was mostly in the center during the event. Probably because not many visitors came this time.
He seemed uncomfortable around the cheerful, Meat. Maru was upset just seeing Meat. However, he came to the visitors for some treats, spoke on the command "Speak!" and played with a blanket. He was completely relaxed after a while.
In the end… he slept☺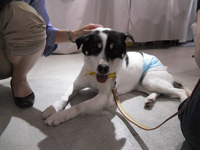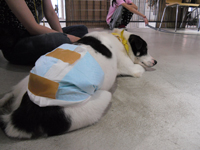 ★Tawawa (JP only)&Suzunari (JP only)★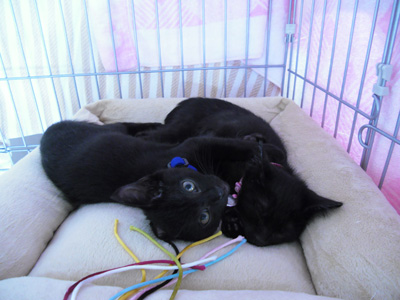 The most popular pair that day was the brother and sister kitten team.
We were a little worried about Suzunari who we thought was very timid. But once they got into the cage, they never stopped playing! We could not take their picture!!
This is the one we finally took. They played a lot and got tired and then slept..
Seeing these two playing happily together, we felt that kittens will be better off if adopted together.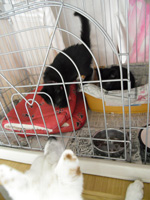 (Suzunari tried to fight against the doggie who visited the event.)
Not many visitors came, but about 3 families may become future adopters.
Some came to ARK after the event that day. Thank you very very much!
It's not easy to come to Nose and we appreciate their interest in ARK… We hope an adoption event will be a chance for people to get to know ARK.
We really appreciate Gorge OSAKA who always kindly lets us use the place. And thanks to volunteers and supporters. Thank you very much for your support this time too!
Next
adoption event
will be held at GREENDOG Kobe on 22nd of July (Sun).
Please come and stop by!
| PR/Event | 15:33 | comments:0 | trackbacks(-) | TOP↑