2012.06.10 Sun
Hikaru and Po-chan leave for the big city
Hikaru
and
Po-chan
have a reputation for being playful and
generous
.
They came to Tokyo to look for their happiness!
They already joined an adoption event and they were relaxed there as expected.
They played happily with a puppy,
Tabasco
, who came to Tokyo with them.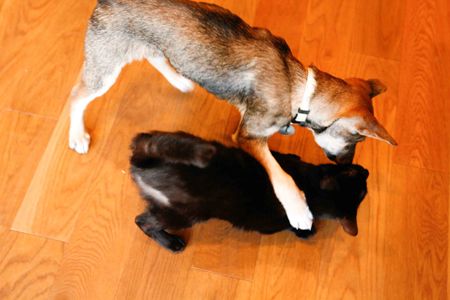 Tabasco: "Who are you?"
Po-chan: "I'm Po-chan"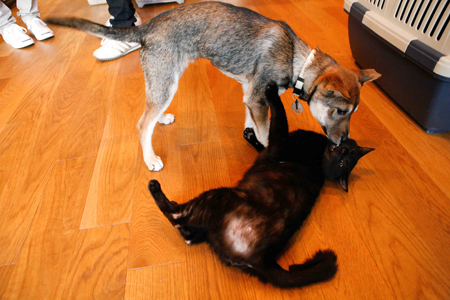 TA: "Smells familiar♪. From Osaka?"
PO: "I developed a bad habit in Osaka. I pulled my fur and I became bald on my butt… "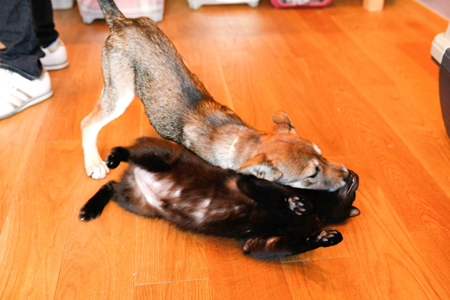 TA: "I love this smell☆"
PO: "very nice to meet you, ah…"
As I told you in the
blog
, Hikaru and Po-chan also love to hang out with dogs!
Sometimes dogs are overwhelmed by them.
We recommend these two to people who live with dogs or to people who want to have a cat for the first time.
The
Next adoption event
is in July. If you want to meet them before then, please contact a href="http://www.arkbark.net/?q=en/node/75" target="_blank" title="Tokyo ARK">Tokyo ARK.
They are fostered by Polo's family now. Polo was also rehomed from Osaka ARK.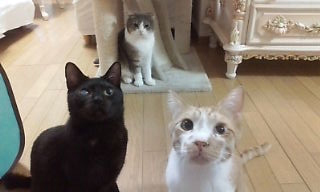 The more a href="http://www.arkbark.net/?q=en/node/4220" target="_blank" title="foster families">foster families we have, the more chances ARK animals can get.
Please feel free to contact Tokyo ARK!
Of course, Hikaru also played with Tabasco in the office.
| Cat | 13:25 | comments:0 | trackbacks(-) | TOP↑