2012.05.21 Mon
ARK's reunion☆2012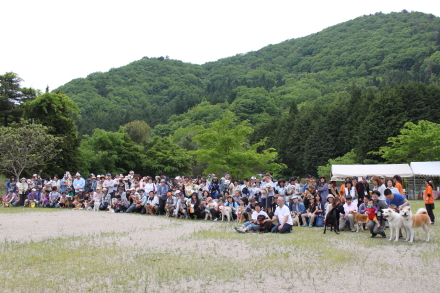 ARK Reunion Party 2012
with dogs was held on May 20th (Sun).
We had 160 people and 94 four-legged participants (and a couple of tripawds!).
It was cloudy and this is the best weather for dogs.
It was a friendly and enjoyable atmosphere. The adopters got to know each other and we had such a great time.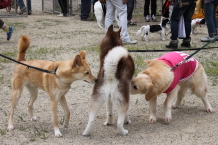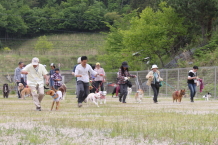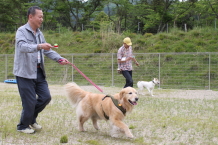 Every year, the reunion helps us reflect on many things.
ARK dogs were once betrayed by people. However, with the love of their new families they have been given new chances. We were really grateful to see their happy faces.
Some of the dogs who ran with us last year watched over us from heaven this year.
We staff members were so encouraged by the adopters who told us stories about their dogs. They told us even tough stories with smiles and it showed us how much they love their dogs. These dogs are their family.
We truly appreciated the love and caring they give their dogs and our hearts were filled with thankfulness.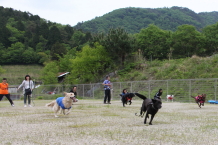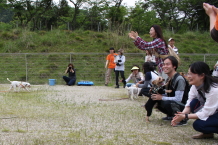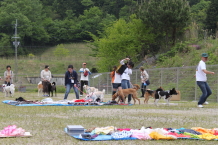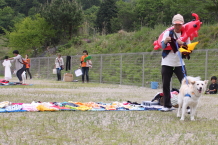 We also had photographer Kyoko Harada from Tokyo. After the group picture, the games began!
During the "spoon race" some chased a ball too far and were foul. Some never dropped the ball and won even though they were slow.
At the "Come! Come! race" a lot of dogs ran to the outside of the course!
Some went straight to their mom and dad at the goal, but others sprinted through the goal… Some just stood at the starting point wondering what to do!… Each dog has their own characteristic. We had such a lovely time watching them.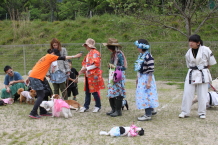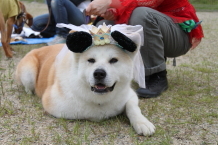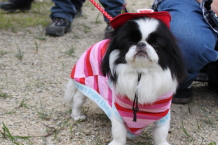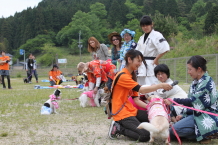 This year, we had a new game: a "fashion race".
In this game, an adopter puts on clothes at the first point, and the dog puts the clothes on at the 2nd point.
Some ran away while their mom was changing. Some did not want to wear the clothes. Many unpredictable things happened and we laughed so hard.
Even if you did not come in first, you could be a winner in the fashion contest.
The winner was a bulldog, PESO, and his human sister. Both wore Karate uniforms with black belts which is the highest rank in karate.☆
Actually, their mom seemed the happiest, as she was awarded a special Shyochu-liquor called "Hyakunen no Kodoku"!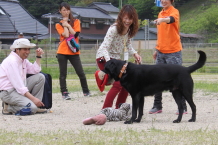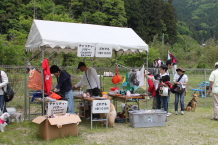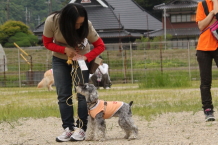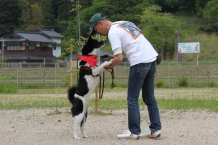 Then we had our traditional event, "Look what my dog can do!".
The lead-off batter was Laska.
His mom used the command "White!" but he chose "Slippers"…
The therapy dog, Hikaru, joined with her mom who studies animal therapy. Hikaru calmly showed her opinion, "yeah, but I do not want to do this today." ☆
One of the regular participants of the event Karin, kissed her dad in front of so many people this year♡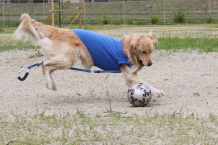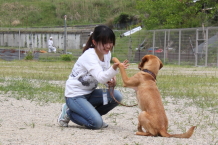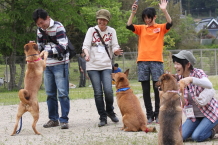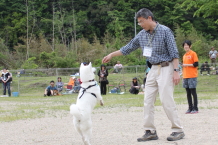 Tack showed us his wonderful ball play and also showed how much he loves his dad.
Lune could not make his high five today, but his attempt was cute.
Zelda&Zara&Haru, did their "inherited skill" perfectly last year. But this year…their imperfect one also made us laugh a lot.
Yuki's dad told us " Yuki can do anything for treats". And yes, she danced, waited and ate treats… She showed us the great result of her training.
Thank you so much to all the participants, volunteers and staff members.
We are looking forward to hearing your feedback and comments.
If you mentioned this event on your own blog site, please link it here☆
| PR/Event | 13:54 | comments:0 | trackbacks(-) | TOP↑