2012.01.10 Tue
Adoption event report at GREENDOG on 3rd Jan. (Tue)
Here is the report from the first adoption event in the new year at Green Dog on the 3rd of Jan. 2012.
There was also an event at Southern Mall Rokko, "Mochitsuki-taikai" (making rice cake for new year)
It looked like so much fun especially for the kids helping to make it.
We too had some rice cakes from them♪
We prayed on these rice cakes for lots of happiness for ARK animals.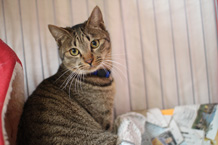 Well well, starting with the report about cats on that day.
Docomo
was relaxed from the beginning.
Docomo is a well known big eater. He ate all his food and wanted more. He tried to reach the dog food outside of his cage.
Daniel
hid himself under his cushion.
When he was rescued, he was a bit too cautious. But now he is becoming friendly and comes up to people who approach his cage.
But it was difficult for him to show his cute character at his first event.
He did not do it well at the event, but was he rehomed during the 3 day weekend just after the event!
Congrats, Daniel☆
Sedge
is so energetic and barks at the dogs passing by in front of this kennel at ARK. But he is basically good at getting along with other dogs. He hung out well with the dogs visiting the event.
He is friendly to anybody and showed his belly.
He wore a manner belt, but did not pee inside it☺
He is calm for a one year old and was not timid despite new people and a new place. We recommend him to a family that is adopting a dog for the first time.
Everybody said "You are so adorable. Your new family will be found soon,
Panna
"
You are friendly to people and dogs. You were patient enough when a child held you, and had good toilet manner.
One thing we are worried about is that you may stick to your adopter too much.
She has been chasing people during the event and it happens at ARK too.
But Panna found her new family during the last 3 day weekend. As everybody said, she got her own family quickly!
"Are you still in ARK?" …. No, do not say it..!
Energetic puppy
Sanbi
is now 6 months old.
Her sibling Shinji was adopted at the end of the year. We hope Sanbi will find her own home soon.
She is bright, friendly and can get along well with other dogs.
Why can't she find her future family?
Kleta
can get along with anybody, isn't shy and has become a regular member of the adoption events. Sadly, she still hasn't found her new home.
One family is interested in her and their dog seems okay to be with her.
If no other family wants her before they can adopt her, she would be able to be adopted by them.
We met some future adopters and received donations (money and supplies) during the event. It was great to have the event during the New Year holidays. Thank you so much to all the people who visited the event!
| PR/Event | 10:26 | comments:0 | trackbacks(-) | TOP↑