2011.10.04 Tue
Adoption event Report ☆ at George Osaka on 02 Oct (Sun)
On 2nd of Oct (Sun), we had an adoption event at
Gorge (JP only) OSAKA
.
It was the 2nd time since the event in August to have a coffee table at the goods selling booth.
We hoped that people like regular visitors and customers of George can talk each other over coffee.
Aika
When ARK rescued Aika, she could not express her emotions. It was heartbreaking to see her having no reaction to things. It reminded us that she had difficult days before. But recently, she can express what she likes or dislikes, and can play with other dogs actively.
Even so, we were worried if she might hide herself in the corner at the event. The place and people visiting there are all new to her. But, she played with others or toys and slept like a frog as usual (see the picture above: lower, left). The staff members were all relieved.
Hana
Hana showed her belly to anybody and played with kids.
When she came to ARK, she had a bad skin trouble but it is resolved and her medicine is going to be stopped soon.
She is outgoing and does pee on a pet sheet perfectly. All she needs now is to find her new family.
Clara
Clara is 8 years old with some gray hair. But she shows her charm like a little girl and appeals her cuteness to the visitors.
Recently, she started urinating around the room.
She never did that before, and doesn't do it in her kennel. It is obvious she has been stressed out by life in a shelter.
She does not bark or behave selfishly, so it didn't seem like she had so much stress.
Sorry, we cannot find you your new home yet…
Ta-kun
Ta kun is tiny and timid. He kept asking being held during the walk and the event.
Being held, even by strangers, makes him feel relaxed.
He already got tired and started nodding off around noon
His manner belt became a just-in-case thing, but he never needed it during the event☆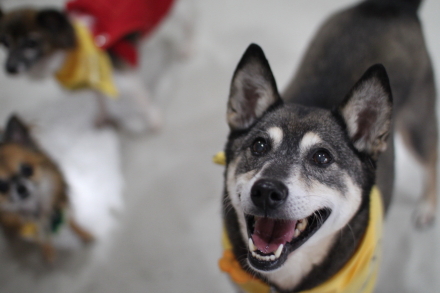 Maro
Maro was the oldest, but the most energetic one during the event.
She tried to chase the one she likes, but it was too much and she got in trouble. But she didn't get back talk and never gave iup. Super positive girl, Maro.
She is friendly to all, curious about the things like a puppy, calm, with a balanced character and never barks. We recommend her to people who are wanting a dog for the first time. She will become a good family member without any trouble.
She was kept by a company, but it went bankrupt and nobody took her. Her life totally changed at 10 years old. But we do not want to give up finding her own family and her true happiness.
Chibikoro (JP only)
&
Mayuge (JP only)
Friendly Chibicoro ate a lot and got spoiled while purring and appealing her cuteness. She also took a nap. She spent time like she was in her cage.
In contrast, her timid brother Mayuge hid himself in a blanket.
One married couple came to see them and became their parents!
Their new daddy said..
"One is friendly and the other is timid? Great balance! If they are happy to be together, that would be wonderful."
Their new mom first wanted to see other cats, but made up her mind.
We suggested to them to keep them in a cage as timid brother Mayuge might hide himself somewhere in the house and get lost.
They will remain at ARK while the new home is being prepared.
Mayuge, you were pouty like that all day, but they understood you!
You have to thank your new dady and mom and show yourself soon after you get to the new home. You are usually a cheerful and spoiled boy!
| PR/Event | 10:06 | comments:0 | trackbacks(-) | TOP↑