2011.09.20 Tue
Is Rai Popular?
There are a lot of handsome dogs in ARK. But we all admit that the most handsome dog is a saluki,
Rai
.
He's like a super model, having a great figure, small head and cool face with a big beautiful nose. His almond color eyes are shining and his fur is smooth like silk.
He is such a beautiful dog, but not cocky at all, friendly, gentle, and well-behaved.
We all had no doubt that Rai would find his new home right away.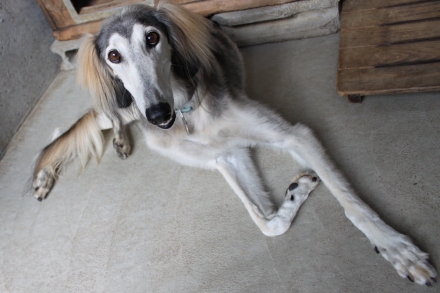 Many people such as visitors and volunteers asked us about Rai.
"We wanna see Rai" "Is Rai here today?" "Beautiful!" "Handsome!" "We hope he will find his new family!" and more…
But Rai has not yet found his new family.
Rai cannot get along with other dogs in ARK.
He barks at the dogs passing in front of his kennel and gets exited at the people he meets during his walk. He is living alone now.
He kills time with throwing his toy and getting it all by himself.
He does play-bow (let's play♪sign) but to a bee…
He used to play with puppies. He probably can get along with other dogs if he is free from the stress in shelter.
He is a cool looking guy, but a super spoiled type.
He often glances up and gives his paw secretly, buries his face to my chest, or rolls over and shows his belly.
But sometimes he notices something over a wall, and gets nervous.
He finds himself living in a shelter.
If he finds his new home, starts living with his new family inside of the house and gets brushing or daily care, he would probably sleep exposing his belly. His stomach problem would have gone then and he would gain weight.
We would see more shining, bright and real smile of him.
We could rescue him from the dark and isolated environment, and the next step is to find his real home soon.
---
On September 29th
Good news!
Today, Rai rehomed!!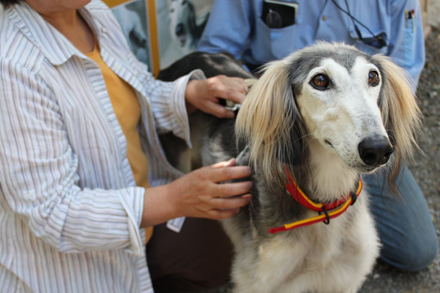 | Dog | 09:50 | comments:0 | trackbacks(-) | TOP↑