2011.09.14 Wed
Adoption event report☆at GREENDOG on 11th Sep. (Sun)
Report from bi-monthly adoption event at
GREEN DOG (JP only)
in Kobe on Sun, 11th of Sep.
It was a great day! Cinnamon, Penne and Gnnochi found their new families, and many future adopters visited the event!
Pumba
Though he is a big boy, he kept hiding under a table.
He came out for treats as he is a big eater. But he always tried to hide, so we put him on a leash during the event.
Pumba is picky with dogs sometime at his kennel. But on this day, he could get along well with other dogs and showed his smile like this picture. Well, mostly forced smiles though…
Perrier
Perrier is Punba's roommate. His weak point is that he too scares easily.
His tail was between his legs and the charming white tip of the tail never danced during the event.
He was scared and hid himself in a closet. He too needed a leash to meet visitors.
He is shy only outside from his place. When he gets relaxed, he becomes playful, obedient and such a spoiled boy. We are patiently waiting for a person who can find Perrier's real charm.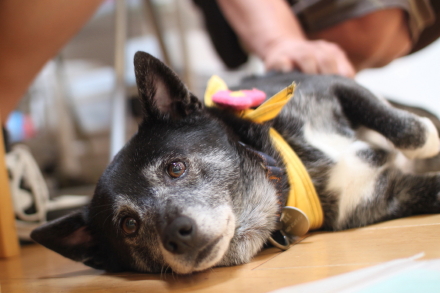 Rin
Rin is a super good girl that did not need any special attention.
She used to be a city girl, so can walk down the busy street around Green dog. She also got treats, spoiled by many visitors and spent relaxing time during the event.
She is not shy but calm, so she would be the best companion. But one concern is her age. Probably 8 or 9 years old, so not easy to find her new family.
Riki
He is usually a bright and friendly dog, but barked at all the visitor's dogs on this day.
He can get along with other dogs at ARK. There is no problem when he spends time in a kitchen without any leash. Also, he was okay with other participants at the event. He definitely can live with other dogs but a bit of his shyness might lead this barking behavior.
He has no aggressiveness against people or dogs. But he kept barking and once was kept locked in a crate.
We are sorry that he got stressed out and gave visitors a bad impression..
Cinnamon
Cinnamon got her new home!
Her new family brought all the necessary documents such as questionnaire, copy of the agreement about pets from the landlord and pictures of home. And all the family members came to see Cinnamon.
"We would like to take her home today", they kindly offered. But they agreed to come back later for her. After everything is prepared, like having a pet gate and pet cage to make her new life start smoothly.
For any dog, the most important moment is welcoming the dog.
If people are busy or too excited, the dog would notice it and things may not go well.
We really want our animals to leave ARK asap, but it is important to hold our feelings too.
Penne
&
Gnnochi
Penne and Gnnochi have been living with a foster family as there is no space for them at ARK at the moment. For them, the adoption event is their only chance to meet future adopters.
They were too tense to move in the beginning, but could not resist the temptation to play. It was fun to see them getting spoiled so much though they still were a bit nervous.
And, the family who fell in love with handsome Gnnochi decided to have Penne too.
Cats living in ARK for a long time sometimes have less experience. But they are originally from other families and do not get stressed with rough handling by small children. That is one of the reason they got adopted this time.
However, cats are sensitive to environment change. We still are worried if everything is going alright…
We talk with future adopters thoroughly and see our animals off after checking their new environment and chemistry. But we are always still worried after they leave. "Was it really a great match?" "Everything is going well??" Also we are truly happy and relieved.
We hope they will never come back to ARK!
We hope they all will be happy forever!!
| PR/Event | 10:26 | comments:0 | trackbacks(-) | TOP↑