2011.08.29 Mon
Event Report☆Adoption event @ George Osaka on 28th Aug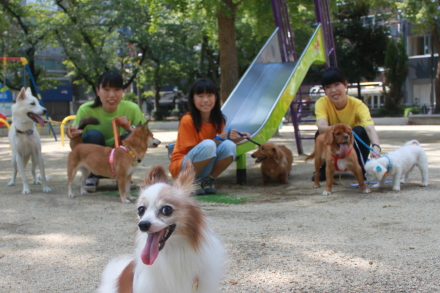 We had an adoption event at
Goerge OSAKA
near Utsubo park on 28th of Aug. That day was the last day of children's summer vacation.
It was too hot to go to Utsubo park even before 10:30 am. We walked dogs to the nearest small park within 100m from the shop.
I will tell you later why only Lay is in the front, not lining up with other dogs…
Though many people came to the event, we unfortunately had no future adopters that day.
Usually, we have several families who will bring adoption questionnaire back home or get appointments to come visit ARK shelter later.
Why we had none this time? We have to think about it..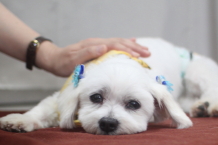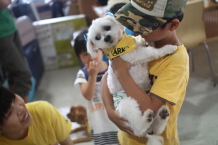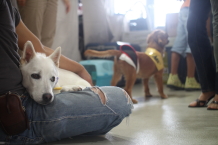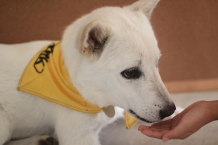 Mar
Most of 18dogs from
Rescuing Animal-Hoarding Maltese Dogs
were adopted and only 4 dogs still stay in the shelter. One of these is
Mar
, the father dog of all. He joined the event to have some luck.
Thanks to trimming previous day, he looked much younger. He was totally like an innocent puppy, being coddled by visitors and played bowing to people or other dogs.
If you can accept his age of 9y.o.,
Mar
is the best dog as someone's first dog. He can get along with people and other dogs, and not a strong or selfish type.
Memphis
He did not bark at all this day though he barks to the people he's never met at the shelter.
He does not do toilet inside of a house and does not lift his leg for pee even outside.
He was born as a stray dog and timid. During the event, he tried to hide himself in a crate or under a table. When I pulled him in front of visitors, he became frozen just next to them.
But he is not the dog who can rely only on stuff members taking care of him. He had been gradually relaxing even with the people whom he met for the first time, men or women, never panicked or tried to escape.
And he could eat well though he was so nervous, as he is originally a big eater☺
It is not easy to find homes to the shy ones who are not good at appealing their charms. That's always our concern.
We truly hope that these shy dogs can find their homes where they can show their innocent&lovely smiles.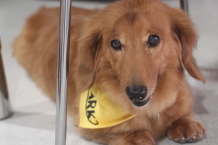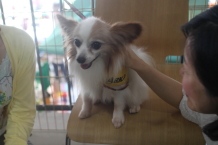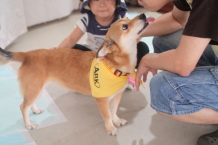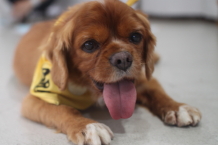 Ray
He is super obedient and friendly to everybody. You can stroke him when he is hold by people.
His only problem is that he cannot get along with other dogs…
When other dog was reaching
Ray
while he was held or spoiled, he barked or growled like a cat.
Other dogs were not always aware of Lay, sometimes just passed by, then he baked a lot.
Not only Lay got stressed but also this gave a bad impression of him to visitors. We let him have some rest in a crate.
When he was out later, he got so upset and his face around his mouth became red.. He was again back in a crate…
He is amiable and obedient to people, not a scrappy type. Let's find a family who wants you as their only dog, Lay!
Cheru
She got the second place in a Bad dog competition following a href="http://drupal.animalrefugekansai.org/?q=ja/node/3659" target="_blank" title="Ray">Ray that day.
She came to the staff member friendly at the affected area.
Cheru
is friendly to everyone, can attach herself to people including children, licking their face gently and getting spoiled. She also can do toilet on a pet sheet. The problem has a 'button' which will change her character. And it was pushed suddenly&unexpectedly.
While she was stroked, she barked!
It was same for visitors and staff members.
Once she seemed feeling good when being stroked. But the other time, she got upset when being stroked on the same part where she was touched before.
It had been getting worse during the event. Probably, she had been getting tired and irritated.
Even so, we started worrying to let her adopted by a family with children…
It's sad… she is such a lovely dog…
Ricky
&
Cutie
There is no problem at all on these two!
Calm, obedient, never bark, never be selfish and good at getting along with people and other dogs. They are such perfect house dogs.
And
Cutie
met a previous partner
Pechi
.
He did not react that much in the beginning, but seemed like she gradually recalled the things, and then "oh..? oh..!!" We were moved to see her noticing her old family and jumping with joy.
You have to get happiness like Pechi did, Cutie!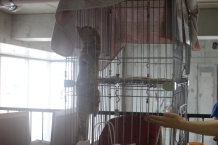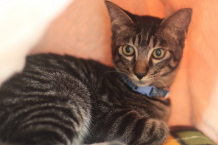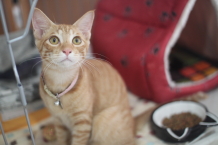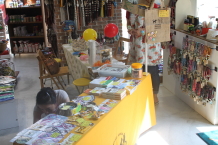 Kabosu
He was nervous and hid himself.
It was not good to be nervous whole event. So we pulled him out, but his ears opened and he breathed heavily (it was hot even inside of the shop, that was another reason). He had never calmed down and crawled to his house when we showed it him again.
But he is still a kitty. When we showed him a toy, he put his face out of the house and could not keep eyes off it.
I know you are such a playful and rambunctious little boy, Kabou!
Citrus
He did a great, great job!
He was relaxed even being surrounded by many people. He could play with toys, climb up the cage fence and could eat his food. He had been such a good mood.
Some people stopped by seeing her photo and profile hung up outside of the shop. It was pity that it did not go to an actual engagement.
We had a coffee table for the first time following Gorge OSAKA's store manager's idea.
We hoped that people gathering there can talk each other over coffee. We always have a lot of people at the event, such as regular visitors, customers of Gorge, or people being interested in ARK though they cannot adopt animals now.
Gorge always gives us various ideas to support ARK's activities.
To keep adoption events useful for finding new adopters and supporters, we will keep exploring new ideas.
| PR/Event | 10:30 | comments:0 | trackbacks(-) | TOP↑