2010.02.14 Sun
Google's Poker Face
A puppy was rescued from a workplace.
Was he abandoned by someone who couldn't keep him?
Or was he a stray separated from his mother?
Approximately 4 months old, he came to ARK and was named
Google
.
But he curled up in a ball and didn't respond much to anything. He didn't behave like a puppy at all.
When taken outside, he didn't try to walk at all, as if he was afraid of something.
In this state it would be impossible to rehome him, a dream within a dream.
We had to get him to enjoy living with people.
So, he went to KK's house for socialization rehabilitation.
At ARK, he wouldn't walk much when taken for a walk, so he started off by going for a walk in a sling.
We started by letting him observe the world from a safe place.
When we let him walk on his own, it took him a while to get started, but he walked obediently at his own pace.
Perhaps it's because he was together with the resident dogs.
Unlike your average frightened dog, he isn't afraid of cars or motorcycles, and is okay around traffic.
But when a person passes by, he freezes and cowers.
Even if the person ignores him.
He refused to walk past an old man doing aerobics on a riverbed from quite some distance away.
But on his third morning walk, he was able to keep walking even when someone came close.
We also took him to a party at a friend's home.
First we let him watch everyone and get used to the atmosphere of the place.
We brought his meal with him and had him eat while being held by strange men and women.
Little by little, he's becoming more able to express his emotions.
He can show joy when petted or praised and he can get angry with another dog.
Watching him, I get the impression that he lived in an environment where he was isolated from people and other dogs.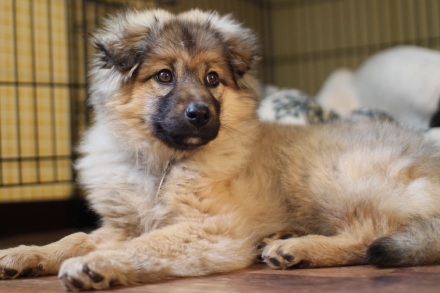 The problem with him is that he doesn't always come when called.
If he feels safe, he comes, but otherwise he runs away or hides.
He uses pet sheets for a toilet, isn't aggressive, and seems like a quiet, easy-to-care-for puppy, but his lack of reaction and not coming when called will probably cause trouble when he grows up if they're not addressed now.
I want to help him gain experience and social skills while waiting for an adoptive home that's a good match for him.
---
★
Kobe GREEN DOG Adoption Event
  Date: February 21 (Sunday) 12:00-16:00
  Place:
GREEN DOG SQUARE
| Dog | 08:55 | comments:0 | trackbacks:0 | TOP↑