2010.01.30 Sat
Waiting for You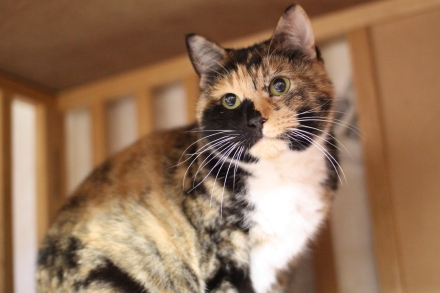 Chappy
came to ARK when her owner passed away. She is the mother of Mako, who I
wrote about
before.
(
Mako
still has not been adopted either...)
After coming to ARK, she was very wary and always hid when someone entered the cat house. Even when we wanted to do a medical check on her, she would not come out, so we just called her name or tried to tease her with a cat teaser, and did not touch her against her will. That continued for many days.
Chappy kept moving from one cat house to another, and spent time with many cats, but she did not get along very well with other cats. Right now she is living in a small house that can hold just one cat.
To our surprise, her mood improved dramatically after she started to living by herself. Sometimes we see her waiting for people, snuggling up to people, and even playing with them. We sometimes wonder if she is the Chappy we used to know when she was living with several other cats!
She doesn't get enough exercise in a single cat house, and we also can't spend much time with her. Our best hope is that Chappy has some good luck and leaves ARK happily ever after.
Chappy will turn 10 years old this year. Many cats can live up to 20 years nowadays, and Chappy has only come halfway. She is the perfect cat for those who want a cat who snuggles a little but likes to keep a moderate distance, as well as those who value a balanced and quiet life with a cat.
---
★
Kobe GREEN DOG Adoption Event
  Date: February 21 (Sunday) 12:00-16:00
  Place:
GREEN DOG SQUARE
  The participant dogs and cats are currently being decided!
---
| Cat | 17:46 | comments:0 | trackbacks:0 | TOP↑