2010.01.04 Mon
January 3rd (Sun) GREEN DOG Adoption Event Report
Having the first adoption event of the year at GREEN DOG must have been a good omen! Since it was just after New Year, we weren't sure if people would come or not, but the number of visitors far exceeded our expectations.
This Corgi,
Mi-chan
, is the type that usually never barks, that can make friends with anyone, and that modestly seeks affection. On that day too, she looked like she was having a good time, going to meet visitor after visitor. She didn't get carsick either.
Sherbet
, a Yorkie mix, seemed to be pretty popular, getting lots of cuddles and treats. When she first came to ARK, she was really distrustful of people and growled, so we could hardly believe how much she was enjoying herself at the event.
When the number of people increased,
Florin
got terrified and started desperately looking for a hiding place. At ARK, she barks whenever people come near the dog enclosure, giving a bad impression. Even though we've been looking for an adoptive family, her fear of strangers and cowering shyness have prevented us from finding anyone suitable. At the event, even though a lot of people saw her and said "How cute!" she couldn't really show her good points.
Her fear comes out of unfamiliarity, not hate or disinterest. Once she gets used to someone and they're familiar to her, she opens her heart to them. We'd really like to find an adoptive family who will quickly see that side of Florin.
She's just so cute…
August
looked busy all day, constantly running here and there, poking his nose into things. Au-chan only goes to the bathroom on the pet sheet or outside. At the event too, he patiently waited until he was outside. He usually sleeps in his crate like a good boy. Despite these good points, ARK hasn't been able to find him a family for some reason. Since the staff members are concerned about him, it was decided that he would take part in the adoption event. Check out Au-chan's special trick: his bum wiggling dance and standing on his hind legs!
Whoa!
Sherbet saw Au-chan stand on two legs and decided to copy him!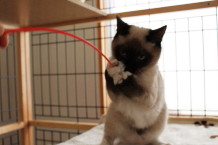 Shido
and
Hannah
were calm from the very beginning. They ate, moved freely around their cage, played together, and had lots of fun with the visitors. They were even spotted napping when the room was full of loud people and dogs. When he decided to get up, Shido sucked on Hannah's belly. Hannah got up and went to the bathroom. In the litter box, of course! This is actually the first time we've ever had a cat go to the bathroom at an adoption event. Hey you guys, this place is very different from the cat enclosure, but you were really relaxed!
It was definitely the New Year!
We had a lot of adopted dogs from ARK come back to visit and play!
GREEN DOG was where Dea-chan (Bonanza) and Sunny-chan met their new parents. Hachimitsu-kun (Aira) and his family are looking for a new family member. When he was at ARK, he didn't get along well with other dogs and didn't like to be touched on sensitive spots like his ears and paws. But now he plays well with the other dogs in the dog run and it looks as though his parents will finally be able to get their wish of having more than one dog. He did a "high-five" and "roll over" too. We were able to see once again the results of an adoptive family's hard work and love, and see that dogs with behavioral problems can become good dogs with the right people.
Miles the Chihuahua (Naa) was having so much fun he didn't want to go home.
Sakohime-chan's (Sandy) adoptive parents told us that her special trick is shaking in fear, and we were deeply moved that her timid character is an idiosyncrasy that makes them love her even more. 
Ricky-kun's willfulness is slowly getting better, and though it's sometimes worrying for his mom and dad, since he's getting older there's not much to be done about it... But the most important thing is that he's healthy!
Koroku-kun can now behave well when surrounded by crowds of people and dogs!
On the day, we didn't have any dogs or cats definitely adopted, but there were a lot of people who are giving serious thought to it, so we have the feeling that good things are coming in the future.
Also thank you very much to all of the people who brought donations and for all of the adoptive families who came to tell us how their cats are doing.
And to the person who purchased dog food from GREEN DOG and passed it on to us through a GREEN DOG staff member, we might not know your face or your name, but we would like to take this opportunity to thank you from the bottom of our hearts. The GREEN DOG staff also said they were almost moved to tears. Thank you so much!
★
In the spring, we'll be having an ARK alumni meeting at the site of the new ARK Sanctuary in Sasayama. ARK adoptive parents, we're looking forward to it!
---
Why not purchase some as New Year's present?☆
How about as prizes for your New Year's parties?☆
★☆★2010 ARK Calendars On Sale Now!★☆★
[Price]
Wall calendar: 1000 yen(tax included)
Desk calendar: 700 yen(tax included)
[How to order]
Please contact us with your name, postal code, address, telephone number, type (wall or desk calendar) and quantity you wish to order.
E-mail:
calendar@arkbark.net
Fax: 072-737-1886
Telephone: 072-737-0712
[Method of payment]
A deposit slip with the total (including postage) will be shipped to you with your calendar.
For more details, click
here
☆
| PR/Event | 09:59 | comments:0 | trackbacks:0 | TOP↑