2009.12.10 Thu
Don't be scared; come out and play♪
What are you doing here? It's not time for a walk yet!
You just came to visit and play?
Florin
, Yaaay~♪
August
came to play too!
Fusaa, don't be shy and come out too. It won't be fun if you're scared all the time.
・・・・・・.
Psst・・・.
That person gave me a really yummy treat!
Wow? Really?!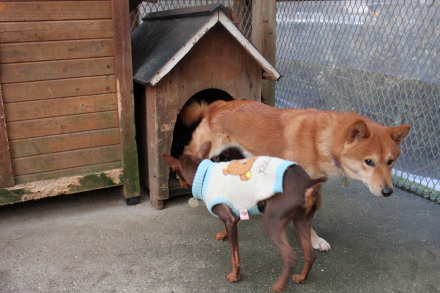 All right, I'm going first so don't follow me.
Hey, they don't have any treats....
Hehehe, you got tricked~♪
Half of the fun in your life will disappear if you don't come out to be friends with different people!
Secret information☆shhh
Fuusa is the father of Happeny.
★☆★2010 ARK Calendar On Sale Now!★☆★
[Price]
Wall calendar: 1000 yen(tax included)
Desk calendar: 700 yen(tax included)
[How to order]
Please contact us with your name, postal code, address, telephone number, type (wall or desk calendar) and quantity you wish to order.
 E-mail:
calendar@arkbark.net
 Fax: 072-737-1886
 Tel: 072-737-0712
[Method of payment]
A deposit slip with the total (including postage) will be shipped to you with your calendar.
Click
here
for details☆
| Dog | 08:40 | comments:0 | trackbacks:0 | TOP↑