2009.11.09 Mon
ARK 20th Anniversary Gala Dinner
On November 7th (Sat), our ARK 20th Anniversary Party was held at the
Ramada Hotel Osaka
to celebrate ARK's upcoming 20th anniversary next year.
On the day, 103 people and 25 dogs attended.
The party started with a march of the dogs from the entrance to the ballroom.
Ladies and gentlemen and their gentle dogs marched briskly down the red carpet.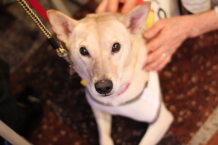 Many of the 25 gentle dogs gathered on that day have a sad past.
Some were used and abandoned by breeders, some were strays who were scared of people, some were almost killed at the Hokensho (public health center), and some were tied up and abandoned…It was quite a sight to see them all behaving calmly in the ballroom.
I wanted to say, "Look!" to people all over Japan.
An auction was held to raise funds for the building of sanctuary facilities.
18 items were up for auction, such as an antique collection owned by Ms. Oliver, a cat doll from Ms. Fujiko Hemming, and the right to name a dog/cat rescued by ARK.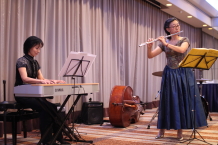 The guests enjoyed a good meal and calming live music.
Ms. Tsuda, a dog trainer who trains the ARK dogs, played the flute! I didn't know she had such a talent in addition to being a trainer! She gave a great performance.
We had a photo session held by photographer Ms. Kyoko Harada. I'm delighted the owners were able to take home wonderful memories via the pictures they had taken of them all dressed up with their dogs at their side.
We had so much fun during the lottery for dinner vouchers at the Ramada Hotel and movie tickets to see "Inu-baka (Crazy About Dogs)".
Of course, we also had toilets for 4-legged guests.
The fun evening passed at lightning speed.
We truly appreciate everyone's cooperation in supporting such a great party, although we apologize for any mishaps that occurred due to our lack of preparation. Thank you so much to the guests who attended the party.
We also would like to thank the
Ramada Hotel Osaka
for their generous support in readily allowing dogs into the party venue. The Ramada Hotel was the only hotel in the Osaka area that accepted our party plan. Assistance dogs are still not common in Japan. However, the Ramada Hotel is a worldwide hotel chain that understands animal welfare.
As we approach our 20th anniversary, we have to say we still have a long way to go before the sanctuary will become a reality. We still have many financial hurdles even though specific plans for sanctuary are being completed. We hope to promote ARK's activities and create a shelter or animal welfare system in Japan like those in England and Germany!!
★
To celebrate ARK's 20th anniversary,
GREEN DOG SUQARE
in Kobe is holding a photo panel exhibition with pictures by Kyoko Harada. It will be open until November 30th. Please visit us to experience ARK through her lively photographs of the animals!
★
Kobe☆Adoption Event at Green Dog
November 22nd (Sun) 13:00 ~ 17:00 
In conjunction with the 20th anniversary photo panel exhibition! Participating
dogs and cats are currently being selected ☆
★
Minami Aoyama☆Tokyo ARK Adoption Event
November 28th (Sat) 11:00~14:00
| PR/Event | 16:47 | comments:0 | trackbacks:0 | TOP↑