2009.11.05 Thu
Is Ina-chan Really a Biter?
Biter?
As soon as
Ina-chan
was rescued by ARK, he was labeled a biter, and everyone was very careful when dealing with him.
We paid attention close attention so that he wouldn't be forced into a situation where he felt he "had to" bite.
However, in reality, he hasn't actually bitten anyone.
One day, the staff taking care of Ina-chan asked me, "Can you try taking him for walk? He's really not into biting."
All the staff worked hard on the rehabilitation of Ina-chan.
They say that those close to Ina-chan can do anything with him.
He can be touched anywhere on his body.
He can be cuddled and can endure shots, medical treatment and grooming.
Since I started working in the office, I've had less chance to get directly involved with the animals.
This was pretty much my first time seeing Ina-chan in person.
I entered his cage alone.
He was vigilant and barked loudly, but he didn't really look like he was ready to attack me.
My purpose for going into his cage was to determine whether he's eligible for rehoming.
So I purposefully ignored his "Don't come near" message and approached him from the front, as many people do, while saying "Ina-chan, don't be afraid, come!"
I tried to put a harness on him but he ran away from me and kept barking, refusing to come close.
He didn't seem to want to be touched by me.
Then I showed him some dog food and he barked to demand that I give it to him.
He didn't show any signs of wanting to attack.
I distracted him with dog food and put a harness on him, and then took him for a walk. Hey, you love walks!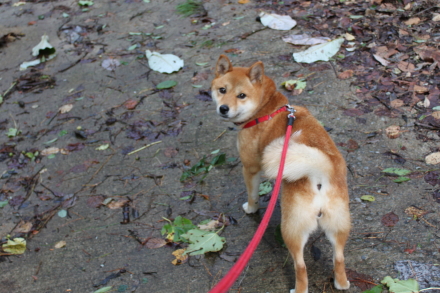 Why do you look so fearful? I won't eat you!
Ina-chan jumped at me for food. I took a step forward and pushed him away. I gave him food if he didn't jump at me.
He barked to try to get what he wanted, but I ignored him, and didn't give him food until he stopped barking.
During the 20-minute walk, he completely stopped jumping and barking demandingly.
We returned to the enclosure and I started stroking him while looking through the camera viewfinder so I could take a cute picture of him being stroked. He made a biting gesture. Oh, did you know my stroking was just an act?
I stopped taking pictures and petted him.
He looked so comfortable and asked me for more.
Then, one more time, I put on and removed the harness. Ina-chan was very obedient and allowed me to do it with no fuss.
You're a very smart girl. Yes, no one likes being approached suddenly and touched by a stranger. Even if I did many different things to you that you don't like, you'd just gently nip me to let me know. You wouldn't bite me hard.
Ina-chan is not an easy dog, but I'm sure he will find an adopter who understands his feelings. Let's continue working together until the day you find a new family!
| Dog | 14:01 | comments:0 | trackbacks:0 | TOP↑