2009.10.19 Mon
October 18 (Sunday) FIELD NOTE Adoption Event
On Sunday, October 18, a fair to support ARK took place at FIELD NOTE in Nara city. Artists who support ARK, and 5 dogs and 2 cats from ARK who are looking for foster families joined the fair.
Pain de' Cuisson
, which usually supplies bread and other baked goods, made special hamburgers to sell exclusively for the day (I was too busy eating, I forgot to take a photo...)
The handicraft artists who participated were:
Kunugimaki
from Atelier of Wood, leather craft artist 、
Noriko Sakata
, woodcraft artist
Tomoko Miyauchi
, and Dyework shop 、
TECK-TECK
.
People's willingness to help animals that have been forced to live in terrible conditions because of the selfish and irresponsible behaviour of others was clear – you could feel the warmth of love in the air. We are very, very grateful to both FIELD NOTE, who holds this event twice a year, and all those who support us. On top of all they've done, we also received some donations, and we would like to thank you very much again from the bottom of our hearts.
14 dogs that had previously been adopted from ARK also came along, so it turned into a small reunion.
Alan (Vanilla) ♂ (top left) would love to play with other dogs but he's not very good at doing so, and his foster family is bit worried about it.
Ellie ♀ & Kurumi ♀ (top right) had a little incident involving the rescue of a lost dog and almost welcomed a new sister.
Wig ♂ (bottom left) had a very good time with his ball in his mouth, diving into cardboard boxes.
Anko (Wakame) ♀ (bottom right) found her foster family at this very same place a year ago.
Navi ♀ (top left) and Suzie (Imana) ♀ (top right) come from the
same place
. Both girls are blind due to inhumane breeding practices. However these girls are calm and good with other dogs, and their foster families don't seem to mind a bit about their disability.
Pochimaru ♂ (bottom left) was not interested in going along with his mom's hope of finding a second dog. It seems he doesn't want a playmate.
Zinc ♀ (bottom right) is the September puppy in ARK's 2010 calendar. Look how he's grown!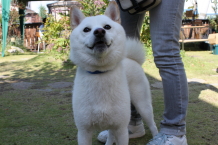 Taiyou (Inka) ♂ (top left) was the boy who was chosen as the main character "Lupin" in the film "
Inubaka
."
Puffin ♀ and Bigori ♀ (top right) are saying hello to Taiyou as always.
Shijimi ♀ (bottom left) is the "cover girl" for FIELD NOTE.
Sakura ♀ (bottom right) is such an affectionate baby to her foster family.
The animals' adoptive families seemed to have a great time with their dogs and enjoyed hamburgers, shopping, and having tea in the cafe section of FIELD NOTE.
One thing I noticed was that there were some dogs without a collar or nametag or just with a collar with a nametag connected to the leash (if a dog got his/her head out of the collar, it would be impossible to tell where he/she came from). This is quite common with dogs, but as we know, only the owner can protect his/her dog. They say, "My dog will be ok," but you never know what sort of unexpected situation could happen. Please make sure your dog is wearing a collar with a nametag. And when you go outside, please consider the use of a harness to connect to the leash or the use of a premium collar for walks♪
This time we brought some cats with us.
The cats we chose to bring were
Hatena
and
Nachiguro
, brothers with calm personalities who are not very shy.
They didn't seem to be scared and showed an interest when people talked to them or played with them, but for the most part they stayed in their box sleeping. When everyone left and the clean up started, they slowly came out of their box. They must have been nervous after all.
Hatena and Nachiguro, good job!
There were no adoption requests today, but for the animals, today's participation will lead to tomorrow's happiness.
Black Pomeranian Kiba ♂ had very good chemistry with one family, but they didn't want to decide right there on the spot. They told us that they would contact us after they have discussed it thoroughly with the whole family.
Zloty
can be a bit too sensitive sometimes, and that can give the impression that she's a difficult dog. We were worried that she would be scared in a group of people she wasn't familiar with. But our concern was unnecessary. She sat straight up the whole time, ate the food people gave her, and she was ok without having the staff around her. She even walked with her tail straight up along the side of a street with cars going by. There were a couple of people who became interested in her and we also received some requests. However, they wanted to give her serious consideration and decided to visit ARK in Nose-machi with the paperwork instead of deciding right there and then.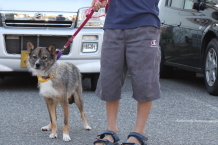 Wombat
, a very shy, scared dog, joined this event as a socializing opportunity. As we predicted, he was up to his nose in anxiety and tried to stay calm by searching for a spot to hide. We let him take a break and brought him out for a walk to relax - as time passed, he reached the point where he was able to eat cheese from someone he didn't know without a staff member being near him.
Huh? He's standing calmly with his leash in a hand of a boy he's never met before!
What? Are you not coming back to ARK with us today?
..... Hmm, you're having photos taken with Zinc's family, what's going on?!?!
Oops, I shouldn't say more than this right now…!
Pump
was his usual self with a hearty appetite. He would listen to the command "sit" to get a treat but his eyes were already on the next treat...
Often times he barks at other dogs that walk by the dog enclosures at ARK, which may give the impression that he's a bad dog. But seeing him outside of ARK, we could see he's actually such a laid back, calm dog, and also very cute.
Happeny
became a bit shy around people and was a little hesitant from time to time, but when people offered him a treat, he quickly went up to them. He was popular with people because of his baby face and puppy-like body. Unfortunately, nobody applied to adopt him, so ARK continues to seek a family for him. Please take him into consideration!
A roundtable discussion with Elizabeth Oliver that took place at
magatama cafe

×

dining
in Osaka city on the same day was very successful☆
We would also like to thank all the people who joined us at this event!
| PR/Event | 16:56 | comments:0 | trackbacks:0 | TOP↑