2009.09.06 Sun
Al the Golden Retriever
Al
the Golden Retriever was taken in together with his brother Leo.
Last month,
Leo
left ARK with a very kind new mother.
When Al arrived, he had filarial worms and bald patches all over his body.
When he was examined, we found out that hypothyroidism was the cause, but you can see that now that he's on medication, he's nice and fluffy.
Al is friendly, cheerful, and well-behaved.
Feeling a little lonely, however, he desperately wants to make friends and expresses this with his whole big body and spirit.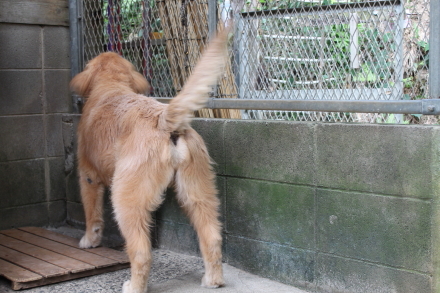 Al absolutely loves people.
Whenever one of the staff walks by on the path, he follows and calls out to them.
But everyone is busy. 
As soon as he has finally settled down, someone walks by again and he gets excited.
Our hearts ache for him.
One of the hardest things I have found about being at ARK is when rescued dogs and cats pass away at ARK without ever finding a family of their own to love them.
Al has filariasis, and takes medicine for hypothyroidism.
He's a large, older dog with an illness.
We must find someone to adopt him soon.
Why does it have to be this way?
As I was driving yesterday, I saw several elderly golden retrievers out on walks.
Will Al see the day when he can relax and be a normal household dog like them?
★
 Green Dog Adoption Event
   Details here. →
Green Dog Adoption Event
★
 ARK 20th Anniversary Photography Panel Exhibit
   When: September 21 (Mon) – October 18 (Sun)
   Where:
magatama cafe

×

dining
★
 Nara Parent-child Culture Festival (PR Panel Exhibit)
    When: October 10 (Saturday)
    Where: Nara Park, in front of Prefectural Culture Hall, Tsudoi no Hiroba (Gathering Square)
★
 Field Note Adoption Event
    When: October 18 (Sunday)
    Where: Field Note, Nara City
| Dog | 16:09 | comments:0 | trackbacks:0 | TOP↑