2009.08.05 Wed
Sunday, August 2nd Green Dog Adoption Event☆Update
Here's an update on the
Green Dog
Adoption Event held in Kobe on Sunday, August 2.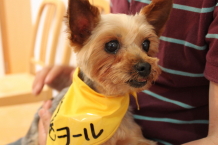 It's been 8 years since Kyo-chan was rescued and brought to ARK, but she still hasn't had a chance to be rehomed because she gets scared easily. She's already 10 years old, but is quiet and gentle, and we thought it might be a good idea to let her join an adoption party to give us an opportunity to conduct a bit of a social study. Kyo-chan looked like she was enjoying herself at the event when there weren't many people around, but when more people came by, she went to the corner of the room and sat there stiffly. Many people were concerned about Kyo-chan sitting in the corner and were kind and encouraging to her. Kyo-chan, people are nice, aren't they?
Beckham
the Beagle is an old dog. He's good at mingling with other dogs and also very friendly towards people. He was rehomed before but returned to ARK, so we really hope he gets a chance to lead a happy dog's life again. Beckham was wearing a doggie diaper that day as he's not toilet trained, but he stood in the middle of the room and wet himself, so his doggie diaper got soaked through. He then had a pet sheet and sealing tape around him. A little unfashionable, but there was no other way…. Despite his little accident, Beckham was basically behaving himself very well and did not pee on anything. Maybe he was too busy cuddling up to people and getting treats, and forgot all about peeing!
Wall
the Yorkshire Terrier found a new family that day! Because she used to be in a puppy mill for the sole purpose of breeding puppies, and had never felt the warmth of human contact, she still lacks the ability to express her feelings. I'm sure she will warm up little by little as she enjoys the love of her new family. I'm so happy you've found an adopter who understands you!
Lan-chan goes for a walk around the crowded Dotonbori area once a week for social training. When there were still only a few people at the adoption event, Lan-chan snuggled up to the first person she met and was calm. However, as more people started to come in, she struggled and tried to escape, so staff had to stay with her all the time. She was taken to the garden for a break and moved to other places where she could relax.
Lan-chan didn't eat many of the special dog treats, but once she found the dried dog food in her familiar lunch box, her eyes lit up. After that, she was more confident going to meet strangers and sat there for food. Lan-chan might be a chicken, but she's definitely a big eater.
Several former ARK dogs also dropped by.
Atom
a Bernese mountain dog, is not keen on other dogs and couldn't come in to the event venue, but his family says he's doing fine with the other dogs at the house where he lives. We saw him listening to his mom very well.
Chi-ko
was rescued together with
Moomin
,
Chibika
, and
Momotaro
. She played with the puppies at the event.
Maron-chan used to be called Okaki at ARK. She's now nicely calm and gentle, so it was clear that she's receiving a lot of love from her new mom and dad.
When we meet former ARK dogs and cats who are now happily rehomed with their new families we feel a real sense of reward from working at ARK.
Bonanza
and
Superstar
, both puppies, looked so happy all the time, running and jumping around begging for treats. But Superstar sprained her leg when she was playing with Chi-ko, and cried terribly. Her crying was so loud that it brought the high spirits of the event down. The picture on the lower right is the whining Superstar, having her injured leg rubbed, but later, we saw her lifting the other foot up! You were just pretending to be hurt! It all discouraged Chi-ko who had been playing with Superstar, and her owner felt responsible, which made us feel bad.
You were the wimpy little kid of the day. We need to train this overreacting Superstar all over again…
Coil
got carsick on the road to Green Dog. He didn't look well for a while after arriving, but as visitors began to play with him, he cheered up. What's more, he found a new family! It was such a tiring day, and you got carsick, but it was worth it!
For those who didn't find a family, let's learn from today and keep on trying to find you happy homes!
| PR/Event | 17:42 | comments:0 | trackbacks:0 | TOP↑