2009.06.09 Tue
Whimsical Gigi
One charming characteristic of cats in general, and
Gigi
in particular, is their whimsical nature.
When you come home, they might come and rub up against you as though saying, "I've been waiting for you", but then when you call their name they walk off as if you weren't even there. The canned food that they loved yesterday, they won't even look at today…
Cats are strong-minded, aloof, give calculating upward glances and drawn out meows.
Gigi seems aware that she's a beautiful tricolor cat (but she doesn't seem aware that her belly has gotten bigger since coming to ARK).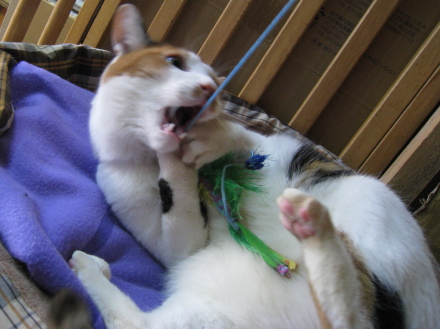 If she's not in the mood to play with a toy, she ignores it, and when we're busy she comes to us for attention…
When we pet her, sometimes she throws strong cat punches and then hides in her inner sanctuary.
If you don't see it coming it's scary!
But she does realize and doesn't want to hurt us.
When she throws her great cat punches, she draws in her claws, and when she bites, she doesn't let her teeth sink in.
| Cat | 15:30 | comments:0 | trackbacks:0 | TOP↑