2009.03.09 Mon
Kitty Paw Pads!
For all you cat pad maniacs! The long awaited 2nd part of our animal pad special!
Eh? You're in charge today?? Why are you giving canned food only to
Big
? I want some too! Hey, you don't have to clean the enclosure! Come and play with me!
Oh! Who's that? What is a "prospective adopter"? I don't want anyone I don't know coming into my room. I'll just hide.
I'm sorry I'm so shy. But I really want a family that will spoil me. This is
me
…
I've had to say goodbye to one friend after another from my room when they find new families. Even when a new cat comes to my room, no matter how old they are, I always welcome them. I'm not very good at presenting myself to prospective adopters so as a result, I've been at ARK for 7 years now. This is
me
!
I'm going to Tokyo! A foster family will take care of me until I find a permanent adoptive family. I'm going to practice how to live well with people and then find my own family!
I'm going to Tokyo, too! Everybody at ARK is too busy to play with me so I'm bored. I'm going to have fun playing and being spoiled by my foster family!
This is who we are…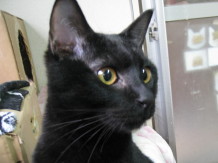 We are
Memina
(left) and
Ryoto
(right)!
I'm really agile and great at chasing after my toys, so the staff suspect that I might actually be able to see! But even if I can't, who cares! I have no problems because I can hear and smell everything, and use my super sensitive whiskers too! I have a great sixth sense! I don't feel handicapped at all.
One day, a staff member realized I was different from the other cats…
I was a small kitten, and the staff watched over me with faint hope and uneasiness, hoping that I would get better as I grew. I'm still wobbly when I walk but I enjoy my life and I can play and eat just as much as any other cat!
This is who we are
We are
Twinkle
(left) and Piglet (right)!
We are sponsor cats and best buddies. If you'd like a cat but can't have one, and if you want us, even with our disabilities, to live fulfilling lives, please become a sponsor.
We're always in the office so please come and visit us!
We're going to participate in the next adoption event. We're looking forward to our trip to Kobe!
| Cat | 11:55 | comments:0 | trackbacks:0 | TOP↑