2009.02.16 Mon
Happy Go Lucky (Knorr)
I'm
Knorr
. My real name is Happy Go Lucky, but everybody calls me Knorr. How come?
I'm living with a shy girl, Maru, who's participated in some adoption events.
(Here are the links to the reports of the adoption events that Maru went to)
19Oct2008 FieldNote Adoption event report
23Nov2008 GreenDog Adoption event report
Our favorite things are toys, meals and walks. Maru is afraid of new people and new places.
I'm not like Maru; I'm not shy, and I have nothing to be afraid of♪
Staff members say I sometimes bark at other dogs and pull a bit too hard on my leash… What are they talking about?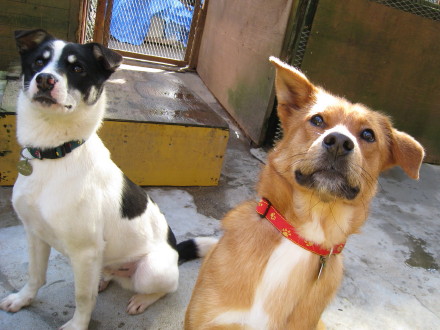 Hey, KK, what's that?
What are you hiding?
Oh! You wanna play tug!!
I can pull harder!
I'll do it, too! Count me in!
I'm playing.
Hey! You get away!
We weren't fighting. That was pro-wrestling. We're so young that we play rough. We even drink water together occasionally.
Oh, that guy!!
Everybody goes past the front of my kennel without asking me, so I have to bark at them until they leave. I can't concentrate on playing because I have to keep my eye on them.
I can't gain any weight though I eat a lot and this is what the staff members are worried about. Don't blame me: I have a lot of things to do. There is no time to sleep peacefully and get fat.
But you know, I've heard that if I'm adopted by a nice family, I won't need to play guard dog anymore. I'll only have to eat, sleep and play with the family, that's all. I have a feeling such a life would be wonderful for me…
| Dog | 09:00 | comments:0 | trackbacks:0 | TOP↑