2009.02.02 Mon
Sadness Continues…
Sponsor Cat "Mikan".
He is a 17-year-old grandpa cat.
He was rehomed a long time ago but was returned to ARK, so he's been a resident for a very long time. When he lost one eye in a fight with a fellow ARK cat, he handled it fine, but since he fell ill in this winter's cold weather, he had not been doing so well. It had been a while since I saw Mikan, and when I did, I was sad to see that he couldn't make a sound and his belly was inflated with the effort of trying to breathe through his mouth. A little wheeze came from his throat every time he breathed. He is such an affectionate cat; he loves to rub against you and purr, but he gets tired easily and he gets dizzy. Our vet told us that because he has nasal congestion from the cold, he tries to breathe through his mouth and his stomach fills with air. He stared into the empty air and I sat feeling uneasy , "He's such an old cat, maybe his time is near." Negative thoughts crossed my mind.
One of our staff could not bear such a sad sight anymore – he didn't have much longer to live, and she wanted him to experience what it was like to be a cat with his own warm, relaxing home. She offered to take him home with her temporarily.
Mikan was very happy in her home. However, the medication didn't help him much, and it seemed that recovery was not on the cards for him. When he is petted he gets so happy and excited, it makes him out of breath and knocks him down. He had almost no appetite, so she tried to force feed him so he wouldn't starve to death.
But then again she thought, "What if this is not only due to his cold? This will only make him suffer and he may pass away all of a sudden … What if I come home from work and he is all by himself completely cold….? I will regret this."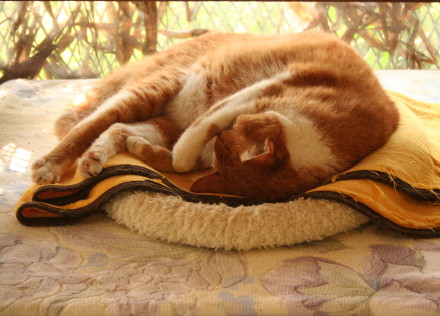 After discussing it with other staff, we decided to stop force feeding Mikan and let him eat whatever he wanted regardless of how good/bad/salty it may be, and to let him spend his time as he wished. From sashimi to shirasu, yakitori to chicken breasts and traditional cat food "neko manma", we tried to feed him lots of different things, served in different ways. The staff member who became Mikan's last mom gave him a lot of love, but still he did not eat, and he became weaker and weaker. He seemed to struggle to breathe, but he remained cheerful.
We made our decision. Mikan went to rest forever in his last mom's arms. Perhaps our decision was taken too soon or perhaps it was too late, prolonging his suffering. If he was a cat with his own home, so much could have been done for him. But for animals at a shelter, the options are very limited. There are so many of them that it's impossible to care for each animal as if they were in their own home, and we feel very guilty about that, as well as angry at those who abandon animals.
---
Sponsor dog Pero also went off to his journey over the rainbow.
It happened unexpectedly. The cause of his death was gastric volvulus, which larger breeds are more susceptible to as they age. For an old dog like him, life in an outside dog run in the winter may have been taking its toll on him. Pero also had a chronic condition in his thyroid, and he passed away during an emergency operation.
14 years has passed since the Hanshin earthquake catastrophe, and many animals here at ARK are also reaching their old age. Those who have been here at ARK for a very long time are becoming ill or dying, and we can't find warm housing and an individual, caring home for each of them….
We all know that animals age quicker than humans, but seeing the reality in which our babies become old and weak it is quite shocking.
So many other things have happened that are not written about in this blog. This winter has been an extremely difficult time and we have faced one sad thing after another. Starting with Midori, we've had so much sad news and we're sorry for the readers that we haven't been able to bring you more cheerful news.
---
However, we do have some happy news.
Daisuke, one of the dogs from a group that had belonged to a homeless guy living in a park, was rehomed. ♪ He was an energetic big dog, and so did not have much luck in finding a home before, but he has finally found happiness.
Napi, one of the 、
32 breeding dogs
, also has gotten lucky. ♪ Napi suffers from impaired sight, and her tiny, tiny eyes can barely see. She is such a good dog, but her handicap was preventing her from finding a home, until now.
Congratulations to both!
| 未分類 | 11:22 | comments:0 | trackbacks:0 | TOP↑