2009.01.11 Sun
Micky the Beagle
Micky
was rescued after being found wandering. He was neutered while still under the care of his rescuer, and then was sent to a training school, where he was praised for being a "bright dog".
Since coming to ARK, Micky has been getting training from Ms. Tsuda, the
KenKenClub
instructor. Recently, I got the chance to go for a walk with Ms. Tsuda and Micky.
Just by looking at Micky, you can tell he's a clever, witty, and good dog at heart, but he's also a bit sensitive and nervous, so he's not finding it easy to get used to all the over-stimulation at ARK. He's always tense and has lost weight as a result.
It's understandable: from morning to night, he has to listen to all kinds of barking, and watch as all types of dogs and people pass by his enclosure, so he doesn't have time to relax. At one point, after successful negotiations, he was adopted, but Micky and the adopter turned out to be incompatible, so Micky returned to ARK.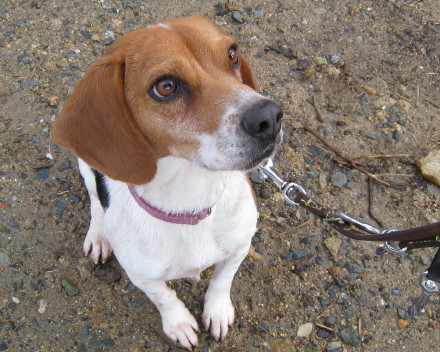 This is a dog that gets excited, so when he sees other dogs, "Woof Woof Woof!" – he barks. Once he starts yapping away, he gets more and more excited, and sooner or later can't remember why he was barking in the first place. Even when he can no longer see the dog, "Woof Woof Woof don't know why but Woof Woof Woof!". During walks, he pulls on the lead hard, so even if we call his name, Micky shows no consideration to the human on the other side of the lead. And he sniffs all the smells here and there, his excitement growing all the while.
Micky makes a fuss when he meets other dogs during his walk, which wears him out completely. It's no fun at all. It's quite sad to see Micky in such a state. We know that the real Micky isn't like this, but we haven't found any good way of lessening his stress. We're always limited by time, ARK's environment, and our own abilities. (I'm disappointed by my own inexperience and insufficient effort sometimes…)
Since we changed Micky's enclosure and starting the training with Ms. Tsuda, he has become a much better boy. Ms. Tsuda also really appreciates Micky's character.
Even when Micky is walked on a long lead, he walks no farther than a certain distance from her, and comes running to her when she calls.
Micky then sits with a look of happiness on his face!
I finally got to see Micky for the first time in ages when I accompanied him and Ms. Tsuda on the walk. It was clear from his physical appearance that his stress levels had decreased since the last time I saw him. Moving his doghouse was probably a factor in his being able to calm down, as he has also put on weight. The only thing that's left is to find a good home for Micky!
Micky is a dog who loves humans and is very sweet, so he feels how hard we are working, and he sees the goals we have for him. Micky would really love to meet his family and would like them to hurry over to ARK to see him!
| Dog | 13:54 | comments:0 | trackbacks:0 | TOP↑