2009.01.01 Thu
New Year's at ARK
Happy New Year.
My name's
Gacchan
. Nice to meet you♪
When you come to ARK this year, make sure to pay me a visit and play for a while.
Today is New Year's Day, so Ms. Oliver told all the staff at the morning meeting that they could go home early. (Yeah, that's right, I attend the morning meetings too!) But something or other is always happening at ARK, so even if you want to go home early, you can't necessarily do so. Well, anyway, it looks like everyone was able to go home at least a little earlier than usual today.
Even though it's New Year's Day, we still had some people come and volunteer as dog walkers. At the end of the year, we actually had lots of people come to volunteer. I'm very thankful for that. I got a lot of love and attention from them so I've been feeling very satisfied.
And we got a lot of New Year's cards. The staff always looks forward to seeing New Year's cards with pictures of animals that have been rehomed. Today during the afternoon break, I heard lots of happy voices, more so than usual. But the reason for all the smiles wasn't just the New Year's cards – sometimes candy is sent to the staff too. Having to work on New Year's means it doesn't really feel like New Year's that much, but everyone still really enjoys it!
Even though we're already so happy to be receiving gifts for the animals, we can't believe how nice people are to send the staff extra little sweets to brighten their day. On the days we find candy tucked inside an envelope, I think everyone does their work a little more happily and with a bigger smile.
Is it selfish of us to be so pleased we got candy?
So that's what it's like at ARK right now. We always appreciate the support we receive from everyone.
This is Gacchan, signing off, as ARK's representative for the New Year!
---
Saturday, January 3
Today Pi-ko and Mya-chan were rehomed!
The staff would like to thank the families that came to visit during New Year's and adopted. For Pi-ko, for Mya-chan, and for all the ARK staff, this is the best New Year's present we could ask for. It was a good omen and wonderful start to 2009.
Pi-ko-related blog entry
http://tokyoark.blog110.fc2.com/blog-entry-136.html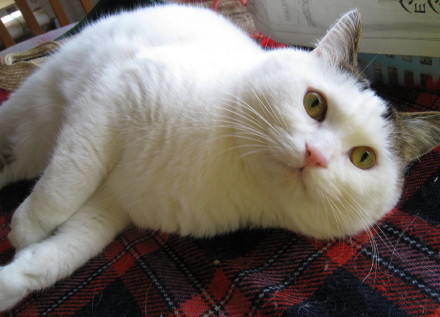 Mya-chan-related blog entry
http://tokyoark.blog110.fc2.com/blog-entry-159.html
Also at the end of the year, Yukie was rehomed, and today we received family photos from the adopters. The adoption was just a few days ago, but Yukie already looks like a long-time member of the family, content and at home. I'm so happy!!
I hope we continue finding more homes for more animals this year!
Yukie-related blog entries
Kakogawa Rescue Report
Kakogawa Rescue Report
| 未分類 | 15:54 | comments:0 | trackbacks:0 | TOP↑