2008.10.21 Tue
10/19 Field Note Adoption Fair☆Report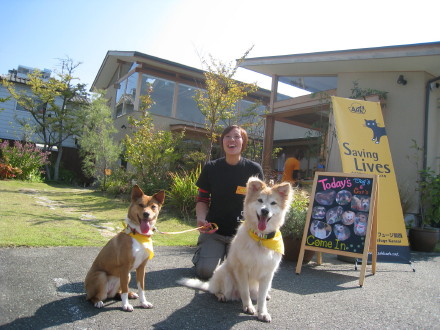 Pardon my lateness!
On October 19 (Sunday) we held an adoption fair at Field Note in Nara.
The participating dogs that day were Natsu, Nozomi, Chobi, Maru, Zinc, Zilla, Dream, Vaica, and Embla, all nine of them. (I'm Magic was supposed to attend as well but found an adopter the previous day!)
Due to an elementary mistake on my part, my digital camera's battery ran out early in the event. People who were there that day, if you uploaded pictures to your own blog or webpage, could you leave a link in the comments? I'd like to get pictures and reports from other perspectives, not just my own, if possible. (Though it's a bit selfish of me, sorry…)
Dream
is usually a little withdrawn, but was very mellow after being cuddled by loads of people.
Embla
usually barks a lot and is a bit of a scaredycat at ARK, but she seemed to have fun getting attention from everyone and didn't bark much. She was also told "You're cuter than your picture!" ♪
Vaica
was popular with the guests and didn't cause any problems with the other dogs. Maru-kun also did a good job!
At what, you say? Maru-kun is easily frightened, but even in a new place surrounded by people he didn't panic and had a fun time with the other dogs. This picture is from shortly after we arrived. A baby innocently came up to him, and he was bewildered and a little tense but otherwise didn't react.
Even though he was full of tension, he always ate doggie snacks given to him by strangers. He is the sort of dog who, even if he's scared, will perform a flawless "sit" if he wants the food.
In the end, he shamelessly used a guest's hand as a pillow. If anyone is taken in by Maru-kun's charms, please apply to adopt him!
Zinc was adopted!
He will be taken home as soon as they have made preparations for him. Right now he is continuing his training while staying at KK's house. He'll have a new mom and dad and two older brothers. And guess what: he doesn't cry out any more when left in a cage, and his toilet training is now pretty much perfect!
Zilla also did his best to appeal to adopters, but I'll have to teach him that when pushing doesn't get you anywhere, sometimes you have to pull.
These are adopters and their dogs who always come to support us at events at Field Note. Elly-chan (left) was rehomed nine years ago and Kurumi-chan (right) last year. I wonder if they'll come to the reunion this year too?
Wakame-chan (now known as Anko-chan), who accomplished a miraculous rehoming at the spring adoption fair, also showed up. The photo on the left is from spring and the one on the right was taken this time. It's hard to tell from the photos, but her legs had grown so long that instead of saying "You got big!" I said "You got long and skinny!"
The white dog on the left is Pipit-chan, who was handed over to her adopter that day. She's saying hello to Jolly-kun, who's an ARK graduate who came to play.
In addition,
Whis-kun
's family,
Gin-chan and Flounder
's adopters, volunteers, and many people who support ARK from day to day also came. There were several applications for adoption, and new meetings that can be expected to develop into something wonderful.
ARK exists thanks to everyone's support. We are always filled with gratitude. Many thanks also to Field Note. We are grateful to them for sharing plans and space, donating resources and time, and taking such good care of our staff. (The cake, crepes, and sandwiches were delicious!)
(Ah! Did you notice… there are no pictures of
Chobi
or
Zilla
? That's because…my digital camera battery…)
| PR/Event | 14:07 | comments:0 | trackbacks:0 | TOP↑