2008.10.01 Wed
10/5 (Sun) Adoption Fair☆Announcement
Here are the animals that will be participating in the adoption fair at
Green Dog in Kobe
on Sunday, October 5!
Gin-chan
  male, about 6 months old
After missing the
previous adoption event
due to a broken bone, Gin-chan is all set to take part this time around!
He'll soon be 6 months old. He's certainly become more of an adult since
this video
was taken!
Flounder
 male, about 4 months old
Flounder is one of the kittens dumped in front of ARK along with some other adult cats and kittens.
Tickle
  female, about 2-5 years old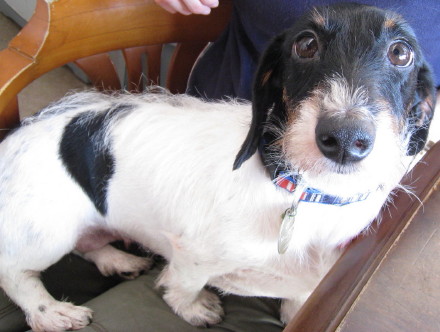 Chack
  female, about 2-5 years old
Tickle and Chack will be representing the 32 little dogs that were recently taken in by ARK in a
large-scale rescue.
Daisuke
 male, 3 years old
Sakura
 female, about 10 months old
Sakura and Daisuke are great friends! Although Sakura is smaller and younger, she is the strong one! I hope she'll have more fun at this adoption fair since Daisuke is coming along, too.
       ↑
Tyr
male, about 3 months old      ↑
Ra
 male, about 3 months old
Tyr and Ra's mother is the same stray dog who gave birth to Sakura.
We hope you'll come to meet all of us at Green Dog!
| PR/Event | 13:06 | comments:0 | trackbacks:0 | TOP↑