2013.01.27 Sun
Fleaur, the cat of cats
Fleaur
is a female cat, probably 2 – 3 years old.
One day, she showed up and stayed in front of someone's house even though the owner of that house never fed her.
The family lives in a residential area and were worried that a neighbor might call the local animal control center to pick up her. So they brought her to a park far away from the house. But a few days later, the cat was again sitting in front of their house.
The family took her into the house, but they cannot keep her as their child is allergic to cats. They called ARK for help.
Fleaur has been friendly from the first day they found her.
Whenever a family member came out of the house, she came to get attention. She showed her belly and insisted they rub it! After being taken inside, she never scratched the walls and used the litter box perfectly. It was obvious that she belonged to somebody before.
(2 months after she came to ARK: she was skinny)
The family who found her told us she had bleeding between her legs. A vet said it was probably due to "pyometra". If it is pyometra, an urgent operation is needed or it would be life threatening. ARK agreed to take her in right away and took her to the vet…In fact, the bleeding was because she had recently given birth.
So was she was abandoned because she gave birth? What happened to her kittens? Were they separated from their mother just after they were born??
We will never know the real reason or what happened to the kittens. But we do know Fleaur has had a litter of kittens and was soon separated from them.
"What happened to my babies?…"
After arriving at ARK we found she doesn't like other cats. This could be due to her recently becoming a mother. To help her, we put her in a single room. The single room is where new cats stay after being spayed/neutered. It is small and that might have caused her additional stress. She started scratching her fur. So she was moved to a room where usually 4-5 cats can live.
"It was spacious and good. But not many people pass by…"
But we don't have many rooms large rooms left because rescue requests are coming in everyday. Next she was moved to a single room in our office area. It is 1 week after the move and so far, so good. It seems like she does not have much stress. This place is not that bad for people loving Fleaur. It is a busy area with many people passing by her.
"Staff members seem to love playing with me to get rid of their stress."」
Usually, it takes long for an adult cat to adjust to a new place. But there has been no problem with her from the first day! She eats her meal as usual and gets spoiled as usual. She is a girl who has been through a lot
But she may start scratching her fur again if she lives here too long. We cannot stop worrying about the "what ifs." We have recommended her to all the people who plan to have only one cat. But she has not been adopted yet. Is it because of her black color? Or the play bite she does when she's excited? Or because she does not like having her nails cut??
She is a black cat, but if you look deep into her fur, you will see white fur too. Stylish Fleaur! May we call her "charcoal gray"?
And her fancy footwork is adorable!
When she feels good, she purrs and makes steps, sometimes she opens her "left" paw again and again. You will never get bored watching her.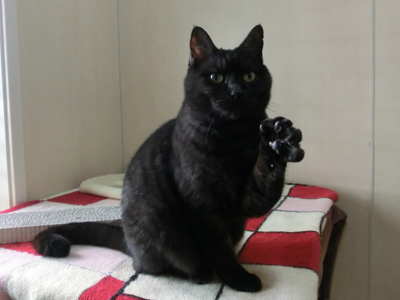 She loves to eat and get spoiled. Then she curls up in her box and goes to sleep as if to say, "I am full." Once she goes to sleep she never wakes up even if we prod her. She loves attention but she also likes her private time. She will be fine is left alone for a while at home.
We really hope someone reading this will see what a great cat she is. Even if you can't take her, please pass on her story to your friends. She is in our office area so please stop by and visit her!
"When my new family will come to pick me up?"
★
ARK photo exhibit in Shiga : Open on Sat, Sun & national holidays☆
http://www.arkbark.net/?q=en/node/4627
★
on Feb 9th (Sat) Adoption event at Komazawa, Tokyo☆
http://www.arkbark.net/?q=en/node/2572
★
on Feb 10th (Sun) Adoption event at GREENDOG, Kobe☆ Fleaur will join!
http://www.arkbark.net/?q=en/node/1622
★
Donation Request: The 18 dachshunds eat pH controlled dog food due to struvite crystals formation. If you have extra at home, please send some to ARK!
http://www.arkbark.net/?q=ja/node/4643
スポンサーサイト
| Cat | 14:45 | comments:0 | trackbacks(-) | TOP↑