2012.11.28 Wed
Adoption event report☆at GREENDOG on November 25th (Sun)
We had an adoption event at
GREENDOG Kobe (JP only)
on November 25th (Sun).
4 dogs and 2 cats joined this time.
We were worried about one dog as it's a kind of challenge for him to join the adoption event.
Actually, what happened at the event….?
First, there was the puppy,
Titan
.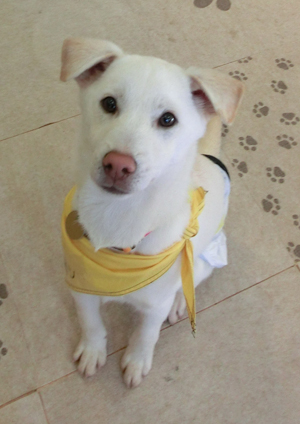 Thanks to your support, 5 of the
7 white puppies
have been adopted. But Kojak, who joined
the adoption event at FIELD NOTE
, and Titan have not found their new homes yet. We hoped Titan would find his new family at this event.
It was the first time for him to be out of ARK. He seemed a bit nervous during his walk in the city. But he could have fun inside of the shop. He does Sit and Wait perfectly for treats!
When we took off his manner belt, which was worn just in case, he went to a pet sheet by himself. After his toilet business, he went to sleep…Zzzzzzzzzz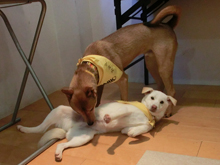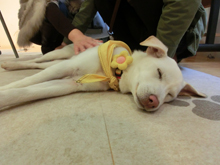 While Titan was at the event, we got word that Kojak got an adoption offer in Nose! Yeah!
One family was interested in Titan at the event. We hope they will come to Nose and adopt him!
And hyper boy,
Pazu
, was also at the event.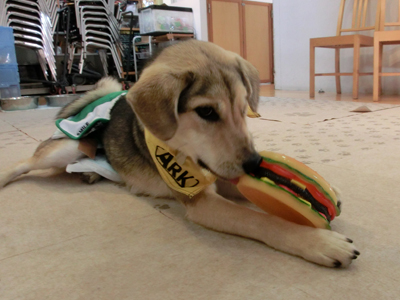 Pazu wants to get involved in everything.
Whenever new visitors came in, he went to welcome them and showed off his belly. If some visitor played with other dogs, he also joined in to get spoiled… He was smiling all day.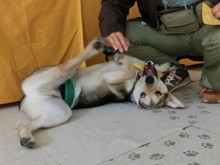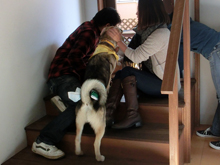 This happy dog, Pazu, had not been rehomed due to his play-bite (also he does not like brushing). BUT, he found his new family at the event!
Exactly one year ago to the day, their previous dog (also from ARK) passed away. It was fate!
Be good to your new family, Pazu! And congratulations!
Probably the third time for him here at Greendog, an almost regular participant,
Omiso
, also joined.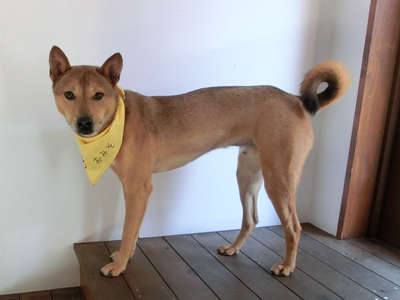 Now Greendog's staff members remember him.
But, he was different today!
When there weren't many visitors, he played with other dogs and sometimes came to the center of the room with his tail up. We think he relaxed a bit this time.
We believe there is hope for his adoption because we can see he can adapt to a new environment. He is very charming and many people gather around him at the events. We hope he will get an adoption offer soon!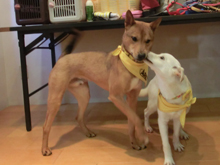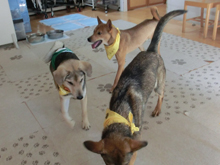 The first time participant was
Piko
.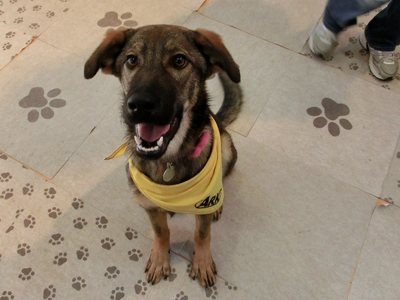 She always barks when other dogs pass by her kennel. Because of her timid character, she has not gained weight. We were worried that she might be aggressive towards visiting dogs. But she was fine! When a visitor's dog barked, she barked too. If a tiny dog ran around, she chased it. She gets excited easily but is ok if someone controls her.
She was calm in the car and did her business on a pet sheet without being taught.
She never dominated toys and could get along with children (she did jump on the child in the beginning though!). We are happy to know that she is a good girl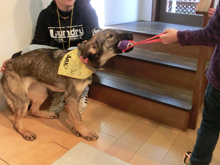 She became friends with 5year old boy who was afraid of a dog♪
And the cats were dressed up with bows for the event.
Bunting
and
Cymbal
joined this time.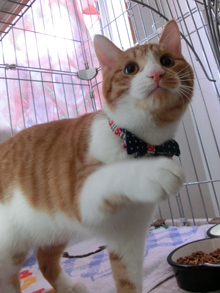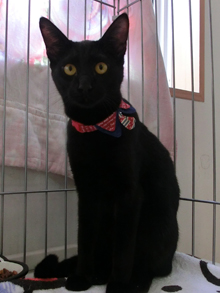 Cats tend to be sensitive to a change in environment. But they could eat their food and could play with toys. They were not too sensitive.
They stared at the dogs as they ate. So I gave them one piece, and they ate it
Both played with many visitors and finally fell into a deep sleep in the litter box!
No family applied for their adoption, but some promised us to visit the ARK shelter to see other cats. They were good PR reps. Good work both of you!
And Andromeda found her forever home here at the previous event.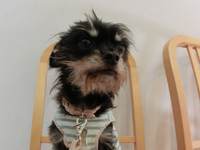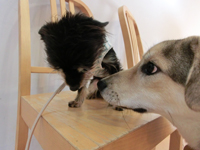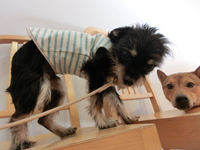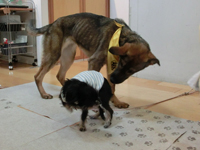 She was adopted by a Greendog staff member. We were looking forward to see her again here.
At the previous event, she barked a lot. But thanks for the adopter's training, she became a good girl. She never barked and was calm when surrounded by bigger dogs.
We want to spoil our dogs especially in the beginning, but the first period is important. Once the rules are set, the dog's life will be a lot easier.
It was a great and successful adoption event this time too.
Thanks to all the visitors and GREENDOG!
★
Dec 2nd(Sun) Tokyo ARK Adoption event at Komazawa Dog Life Design
http://arkbark.net/?q=ja/node/2572
★
Dec 2nd, ARK photo exhibit in Shiga will start!
http://arkbark.net/?q=ja/node/4627
★
Dec 16th (Sun) Adoption event at GEORGE OSAKA☆
http://arkbark.net/?q=ja/node/2298
スポンサーサイト
| PR/Event | 18:07 | comments:0 | trackbacks(-) | TOP↑