2012.10.21 Sun
White puppies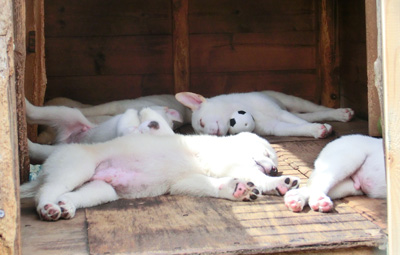 These 7 white puppies came to ARK when they were one month old. They were rescued from the same area where the sponsor-dog
Wireless
came from.
※ You can find the details of Wireless on the 2013 ARK Calendar!
When rescuing puppies it is important to take the mother dog as well so she can be spayed to stop the cycle of stray puppies being born. We also took the mother of these 7.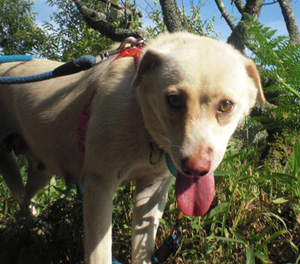 This is their mom, Olympia.
Probably they were her second litter of puppies.
She is still young and has adjusted to life at ARK faster than Wireless. She is now being trained so we can rehome her soon.
All these dogs came from an area where the animal control center (Hokenjyo) intensively tries to catch stray dogs. Even though they are strays, it is apparent the older ones were once pet dogs. Puppies and friendly dogs are fairly easy for the Hokenjyo people to catch. Olympia and her puppies were lucky. Olympia is very friendly and took snacks from stranger's hands. Her puppies were only one month old at that time and easy to capture.
It was not easy to see which one was which… because they all are white!!! So, we colored their ears.
Stray dogs, even puppies, tend to be cautious toward people. But these puppies were fine with people from the beginning.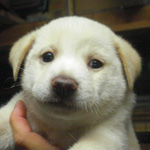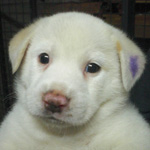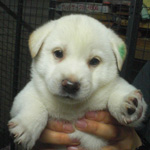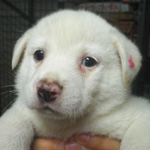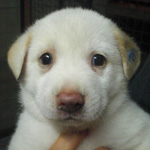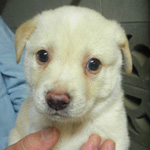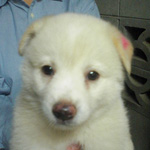 As they started to get older they started to show their individual personalities. They also started fighting! We heard puppy screams everyday! The weakest one, Cronos, began to be afraid of his siblings. We decided it would be best for him to go to
a foster family in Tokyo
.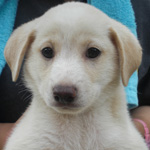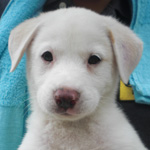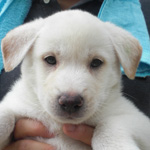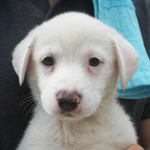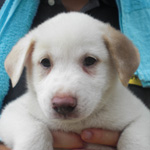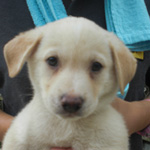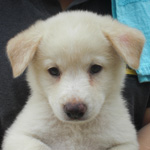 It was good timing for Cronos to leave to live with a foster family. He could be socialized there. AND, he was adopted the other day! He is the first among his siblings to get rehomed.
And now
Vegas
is waiting for a chance to find his forever home with a foster family in Tokyo.
The other five white puppies were separated and put in different kennels to be "trained" by older dogs. They are healthy and happy at 4 months old!
First, the only female in the group is
Gucci
.
She is active because she grew up with all male siblings.
She likes big dogs and always asks her roommate
Guiness
to: "Play! Play with me♪".
And if Guiness is not in the mood and growls at her, she screams… such a girly girl…
She has been growing and her face now looks a bit like her mom.
(Looking up at the picture her left ear stands up but really it is a floppy ear like the right!)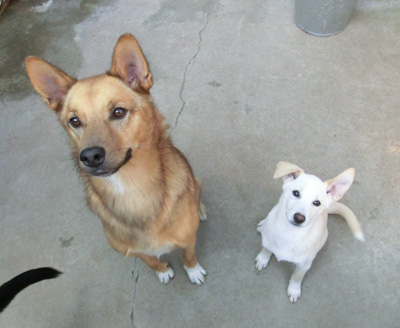 And
Orbit
has become very sociable. He now weighs 6.5 kg.
He is lives with some older dogs,
Astro
,
Memphis
, and
Athena
(who was also rescued from the same area but is not a sibling). He is great with these strong older dogs and loves to play with them!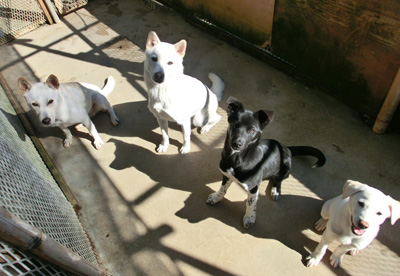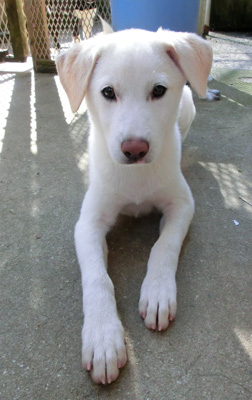 "I'm so smart that I can do 'Down'!"
Titan
is getting along with a Sheppard mix,
Nano
.
He is the most 'peaceful' boy among the siblings♪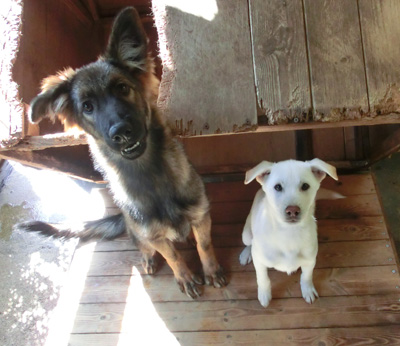 Titan is just 2 months younger than Nano, but still tiny..
Nano's weight is already 15 kg and is now 6 months old!
How big is he going be?? Oh no, before that, we have to find him a good family!
And
Kojak
and
Teia
 are being trained by
Omiso
.
Kojak is on the left (5.8kg) and Teia is on right (6.2kg).
Kojak is strong minded but loves to play. Omiso is always joking around with him. He screams easily which seems to entertain Omiso….
Teia is the most handsome boy among the siblings. He is competitive and sociable in a good way.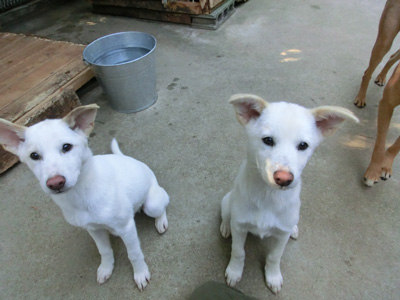 They have all learned "sit", "down", and "wait." Now they are being trained to make eye contact. Everyone is up to date on all vaccines, had flea/tick preventative, have been microchipped and, of course, spayed/neutered. All that's left now is to be adopted! They are all anxiously awaiting their forever family.
Now is a great season to come visit us in Nose. Why don't you come up to ARK and see these lovely puppies?!
★Bonus shot★
Where was Omiso then…?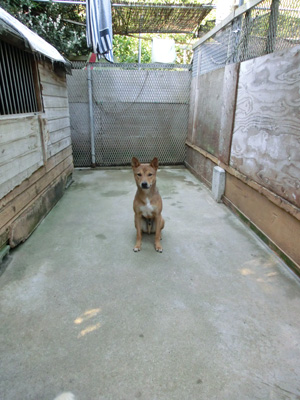 "Alone………"
He was afraid of the camera and watched us from afar…
★
Nov. 11th: Adoption event at Field Note in Nara♪
The white puppies will join!
(Of course we will be happier if they find their home before the event!)
http://www.arkbark.net/?q=en/node/4543
スポンサーサイト
| Dog | 10:45 | comments:0 | trackbacks(-) | TOP↑