2012.08.25 Sat
Adoption event report☆at George OSAKA on 19th Aug. (Sun)
We had an adoption event at
George (JP only)
OSAKA on 19th of Aug (Sun). This time we had 4 dogs and 2 cats.
There were not many visitors this time. However, it gave us a chance to see the individual personalities of the animals we brought to the event. This was the first adoption event for all of them.
Benkei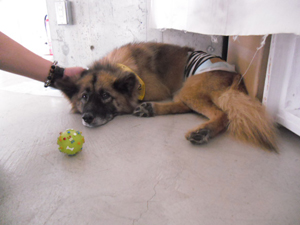 Benkei broke the wire-cage and peeked out from it when he first came to ARK.
It seems he had never been confined in crate before. This time he was fine coming/going back from the event as we let him free in the car.
Probably this was his first time in an air conditioned room. He slept so well during the event..
He waited until the event was over before he needed to go to the bathroom outside. Also, he was ok when small children touched him. He was a very good boy all day. He only got excited when a visitor brought their dog into the shop. We can recommend him to first time dog owners!
Pazu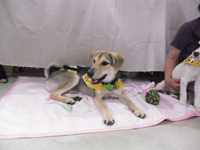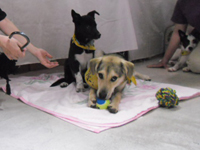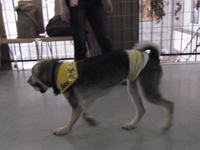 Pazu was the most energetic one this time. He was hyper throughout the event!!!
He never got tired. If no other dogs played with him, he collected the toys and played by himself.
He is not big, is super friendly and is never afraid of walking in the city. Probably he will be rehomed soon!
One negative point: once he gets really excited he tends to bark and play bite. We hope his new family will train him. He obeys the senior dogs. If a senior dog trains him in a future family, he could be a gentleman♪
Athena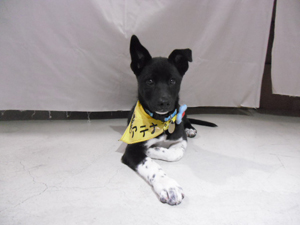 She is always active at ARK, but was a bit timid being "inside" for the first time.
She enjoyed walking in the park and outside of the shop. But once she entered the George shop, she peed…!
She was tense during the event. Especially during the busy time, she became timid..
But she is known as a big eater! She could eat treats from anybody. And she never tried to escape when she was held by a visitor. Considering she came to ARK as a stray, she did a great job.
Mojo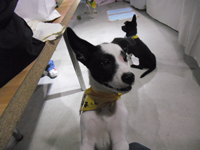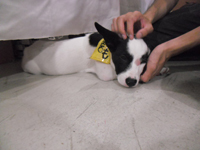 Mojo always hides behind Athena even at ARK.
He was panicky when walking on the busy streets. He has never seen so much traffic. However, he was fine walking in the park. He needs to get used to the atmosphere of a city. He liked sitting in the corner during the event. Even so, he is another big eater. He could come to the center of the room for the treats♪ During treat time he didn't care who was around!
He also was calm when the visitor held him. He never panicked.
We need to give him socialization training especially to various kinds of sounds.
Ayame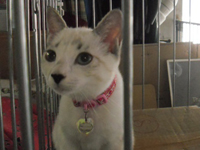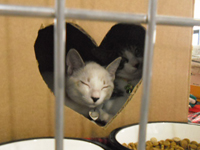 She doesn't know the word "timid". Ayame tried to appeal to all the people passing by saying, "Touch me!"
She became tired in the middle of the event. She tried to stay awake because she wanted to play with everyone. So many visitors fell in love with her. Way to go, Ayame!
Fado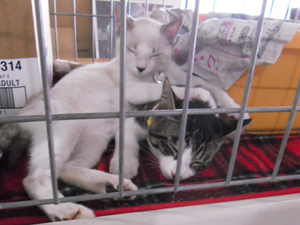 Fado is always friendly at ARK, but was a bit tense at her first adoption event.
She tried to hide herself. But once we took her out from her box, she was fine. She could eat and watched the people/dogs at the event.
She didn't show off her usual active personality. We hope this event was good socialization training for her.
Not many visitors came this time. Maybe people were tired after staying up late for Olympic games?
We did not have an adoption offer, but received the Questionnaire for adoption. We hope we will find a great match for them.
Thank you George OSAKA staff and volunteers!
We will come back again in October!
★
On 26 Aug, Tokyo ARK has the adoption event "Kitten, kitten, kittens"!
http://www.arkbark.net/?q=ja/node/4219
★
We will have the photo exhibit this year too! From 11th to 16th Sep in Omotesando Hills
http://www.arkbark.net/?q=ja/node/4413
スポンサーサイト
| PR/Event | 14:55 | comments:0 | trackbacks(-) | TOP↑