2012.07.23 Mon
Adoption event report☆at GREENDOG on July 22nd
We had an adoption event at
GREENDOG Kobe (JP only)
on July 22nd. (Sun).
Four dogs and 1 cat joined this time.
It was good to see each animal's character.
First, "
Matsue
".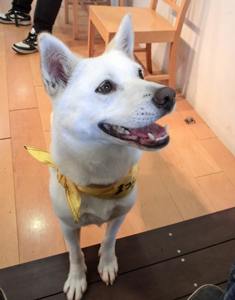 Matsue has been living in a back area kennel since her puppies were adopted.
She barked at people passing by when she was in the front. It was as if she was becoming more timid.
But she was moved to a kennel close to the entrance of ARK about a month ago. Why was she moved? Recently she has become a friendly smiling dog!
She relaxed and had a good time at this adoption event too.
When she smelled snacks, she came to get some. When she found someone free, she came to be stroked. When she was tired, she slept deeply behind the table.
It must have been Matsue's first experience to take a nap in an air-conditioned room.
Her face was saying, "aaaahhh, this is heaven" while she was sleeping.
You can see how she has changed, compared to the picture of her at
the adoption event in Apr.
Her tail was up during the walk. Well, she froze for a second when a bike came at us, but she didn't panic. Of course, she had no toilet accidents. Will she soon have a relaxing life in someone's home?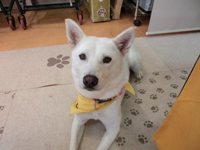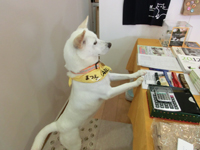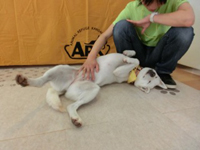 We thought a Corgi named "
Kanna (JP only)
" would be the most popular dog this time.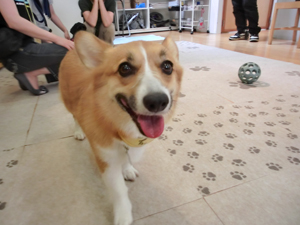 She probably had a bad experience with her previous owner. She doesn't like to be held. If someone holds her, she screams. We were worried about this.
She screamed when she was held by a volunteer she'd just met for the first time. But after getting to know her, she herself approached the volunteer in order to be held.
We are sure it won't take long until she can get used to a new family.
Whenever visitors came, she went to welcome them. She was always moving around busily. But in the end, she could finally lie down and relax.
Kanna seems to love kids. We did not expect this as she is a little bit timid.
We were wondered if it was because she was adored only by the child in the previous family? We felt sorry for her.
She goes to the toilet often these days. Because of stress? But she did it only on the pet sheets during the event, Good-girl!
She loves to be praised. We hope you can find your own family soon!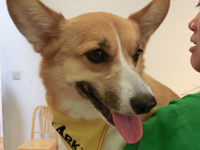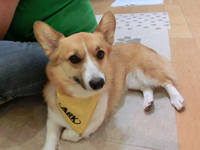 Next dog is "
Asin
".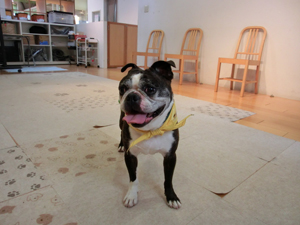 Asin is a Boston Terrier. He came to ARK with a female dog and their 3 offspring.
He and his family of dogs often bark at the dogs passing in front of their kennel. We thought Asin did not like other dogs. But actually he is such a nice guy.
He never showed aggression toward the visitor's dogs. He just concentrated on playing with a snuggle Coon.
He played the "throw it! But don't take it away!" game intensely...
Kanna got the snuggle Coon from him. He tried to get it back, but gave it up after Kanna barked at him only once.
"What a nice guy!" All the girls admired him. You are becoming popular from this event, Asin!
After he played with many visitors he was tired and he slept deeply with a smile on his face on the way back to the shelter.
His manner-belt never stayed on his waist (actually we cannot figure out where is his waist!). But it was found that he didn't need it♪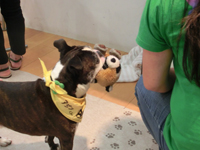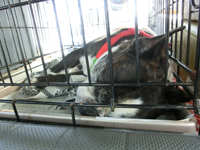 And here is the regular, "a href="http://www.arkbark.net/?q=en/node/4182" target="_blank" title="Omiso">Omiso" with a manly hairstyle.
He was in the spot where shy dogs usually sit.
Sometimes we pulled him to the center of the room, but he came back to this place as soon as he could.
Since he didn't move from there, the visitors came to him.
It seems like many visitors were curious about Omiso. His fur color blended into the color of the floor. He became the most popular dog that day!
He was afraid but ate the food without problems because he is a big eater.
He was too scared to walk in the city and we needed to hold him. It would be wonderful if he could be adopted by a family that lives in the countryside like ARK or has a big garden for him.
He doesn't show it yet at the events, but he loves playing with other dogs. He usually follows his kennel mate dogs. It would probably be great if a family with a bright dog can adopt Omiso.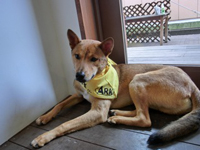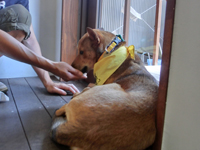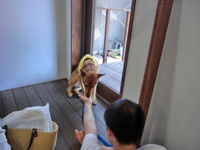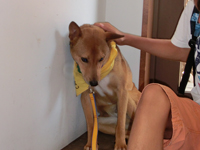 "
Mashiro
" was the only cat this time.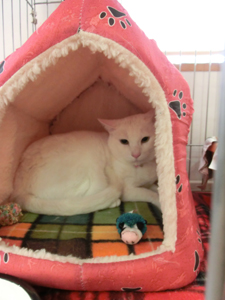 He ate all his meal just after he arrived at the event place. It is rare for adult cats!
That's our boy, Mashiro! We thought he could show his great personality to the visitors.
But he pouted like this when Asin tried to get his toy.
After the visitors left, a staff member took off his roofed bed. Then he was relaxed.
He could enjoy looking outside only the last 15 minutes.
It is still rare that an adult cat can adjust quickly in a new environment. We can recommend him to people who never had a cat♪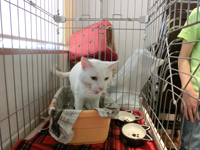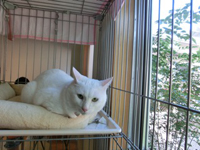 No one found their new family that day, but some of the visitors would consider adoption.
We hope we can meet you at ARK with your children on summer holidays♪
The shelter is in Nose where it is cooler than the city (temperature is around 5 degrees lower!). Please come visit ARK as a summer retreat.
(Please call us in advance!)
Thank you very much to the adopters for coming to the event on that hot day.
Seeing ARK's alumni having a lot of love encourages us to keep doing this!
(Sorry to the ones I didn't get a photo of!)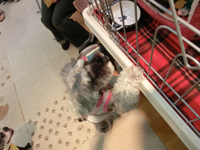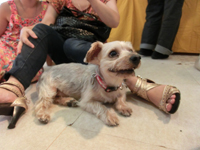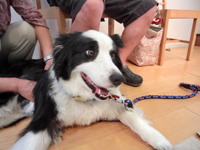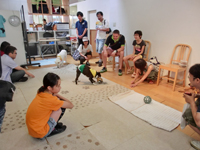 Thanks also to the people who stopped by and to the great volunteers and GREENDOG staff members who always care for ARK's dogs.
See you at the next event!
スポンサーサイト
| PR/Event | 11:01 | comments:0 | trackbacks(-) | TOP↑