2012.04.24 Tue
Event report☆ARK Support Fair at FIELDNOTE on 22nd Apr.(Sun)
Here is the report for ARK Support Fair on 22nd Apr (Sun).
We had so many visitors despite a limited agenda and the rain this time.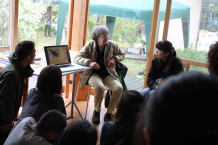 The plants which were grown by Ms.Oliver in ARK's garden were so popular.
Many people came to see Ms.Oliver. So, we set up a talk session.
People were so interested in the stories of animal shelters in the UK and the US.
We had special supporter booths such as woodcraft artist
Ms. Miyauchi (JP only)
, leather goods artist Sakata-san and the flower/plant shop
Fuusouboku (JP only)
.
Also we received donations from the bakery
Pain de cuisson
and the flower shop
Hanaroji (JP only)
.
We truly appreciate all of you having booths at this support fair and
FIELD NOTE(JP only)
.
Thank you for all your support on that rainy day.
Frum
He is one of
the Shih Tzu Dogs rescued in March
which was in the ARK news.
He is becoming friendlier and healthier thanks to therapy. Now he can play with his favorite toys and try to get attention. Well, he was a bit nervous in the special atmosphere this time, though.
Probably, it was the first time for him to go out like this and to get spoiled by many people.
He could not run around with his favorite elephant toy, but he was held by a little boy calmly. And he even snored on someone's lap.
Frum is playful but not young anymore. He might get tired a little bit.
Sabrina
We did not know you are good at jumping catch, Sabrina!
We were joking if we could lie and say her age is 4? She is too energetic for an 8 year old! She has wonderful jumping power and stamina!
Just for your info, the elephant toy Sabrina is so into is Frum's;-)
She barked even to go outside several times. She was in a such a good mood she could not stop herself!
And she could wait calmly during Ms.Oliver's speech. Good girl!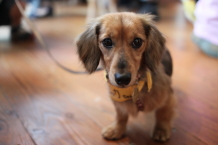 Dicondra
Dico sometimes barks too much or makes toilet mistakes, but he was calm and never had an accident during the event.
He is not good at hanging out with other dogs and was mean to a visitor's dog. But he was so popular and someone said "cute---!!!" He seemed in a good mood.
Mocca
Mocca is friendly to everyone. She asked everybody to hold her and she climbed up to visitor's laps with her short legs. She never hesitated☺
She is beautiful, small and good at hanging out with other dogs. Also she never bites (not like other selfish small dogs), she is bright and outgoing. Why hasn't she been adopted yet..?
Only problem is she has separation anxiety. It is probably because of special environment before the rescue and we believe it can be changed.
She did not have any toilet accidents on that day, it might be because she was mentally stable.
We are always surprised at how different our animals are at the adoption events. They are more attractive.
We love them more when we see their new character, especially the ones who try really hard.
Unfortunately, we did not find new families for these four dogs. But many people came to the event and many ARK good or plants were sold.
We thank all dog lovers there for giving us support.
We also appreciate all the people who came to the event. People who dropped off donations, bought ARK goods and gave us donations.
We hope you had a great time as well.
Any feedback is so welcomed!
(We will pray for sunshine next time!!!)
スポンサーサイト
| PR/Event | 13:01 | comments:0 | trackbacks(-) | TOP↑