2009.12.29 Tue
The Billy Goats are Here
Three goats have come to ARK.
They were being raised at someone's house but for some reason they were unable to keep the goats any longer. They had more than three goats and ARK could only take in three so we had to get other groups to take in the rest.
Ms. Oliver gave the three goats new names.
The biggest male goat was named Tricks.
The mid-sized goat was named Acrobat.
Whenever Acrobat goes near someone, Tricks follows him and bullies him. Is he jealous?
I don't know anything about the behavior of goats, but they do a lot of interesting things.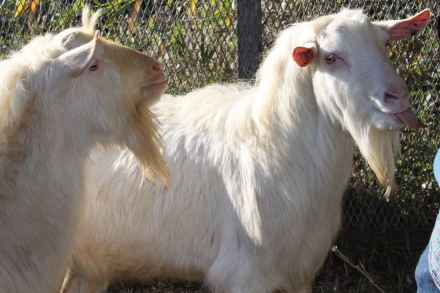 Their saliva goes flying out into the air and they come up and lick us.
One of the staff members said they also get up on people's legs. It almost seems as though they are mounting us!
The vet said it is probably their way of intimidating us? Really?
But once you get used to seeing it, it's really quite cute.
The one female of the group is the easy-going Notty.
She likes to be brushed.
We hope they'll be able to find new homes...
But as long as they're here, no trolls will come so we're safe.
---
★
Kobe GREEN DOG Adoption Event
  Date: January 3rd (Sun) 12:00-16:00
  Place:
GREEN DOG SQUARE
  This is the first adoption event of 2010! The Chihuahua troops are scheduled to attend.
---
★☆★2010 ARK Calendar On Sale Now!★☆★
[Price]
Wall calendar: 1000 yen(tax included)
Desk calendar: 700 yen(tax included)
[How to order]
Please contact us with your name, postal code, address, telephone number, type (wall or desk calendar) and quantity you wish to order. 
E-mail: 
calendar@arkbark.net
 Fax: 072-737-1886
 Telephone: 072-737-0712
[Method of payment]
A deposit slip with the total (including postage) will be shipped to you with your calendar.
For more details, click
here
☆
スポンサーサイト
| PR/Event | 08:21 | comments:0 | trackbacks:0 | TOP↑