2009.08.30 Sun
Kuuri: The Cat Who Wears Socks
This is
Kuuri
.
We don't know if she had an accident or was abused, but when she was rescued from a road, her upper jaw was broken, she was afflicted with a skin condition, and she was in very poor health.
Kuuri's skin condition turned out to be mange. It took time to heal and recent test results have come back negative, but still she still scratches for some unknown reason. She is young and full of life, so we felt it would be unkind to have her wear an Elizabeth collar all the time. So we put socks on her instead. That way, even if she scratches she won't hurt herself.
Most cats would feel strange wearing socks and would rip them or try to take them off, but
Kuuri
doesn't seem to mind.
Come on, Kuuri. You've spent so much time in your cage recovering that it's time for you to get some exercise now!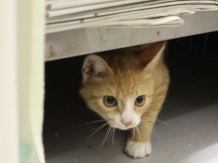 What an adventure!
Kuuri peeked into the cages of the other cats, crawled under the shelves, and had fun running around the room.
It took a long time for Kuuri to recover and she still tends to scratch herself, but we want to get her spayed and then adopted as soon as possible.
Poor battered Kuuri who nearly lost her life on a road…Look how far you've come! I feel a rush of love when I see her innocent face.
This is a picture of Kuuri when she was rescued.
Kuuri, I hope you find happiness soon.
スポンサーサイト
| Cat | 15:50 | comments:0 | trackbacks:0 | TOP↑