2009.01.31 Sat
2/1 (Sun.) Adoption Fair ☆ Notice
Come on down to our Sunday, Feb. 1 adoption fair at
GREEN DOG
in Kobe! People interested in ARK's activities, those looking for an animal to become a member of the family, anyone who can't make it to ARK's shelter in Nose – please come visit us in Kobe!
"Tomorrow we'll all be waiting for you~♪"
(Click on the animal's name to jump to their profile page)
"Play with me!" Naughty guy
Santa
A dachshund mix. Her small size and unique looks are sure to please!
Aira
"Oh please. 'Sit' is as easy as cake for me!" Smart and well-behaved
Zodiac
 6 months old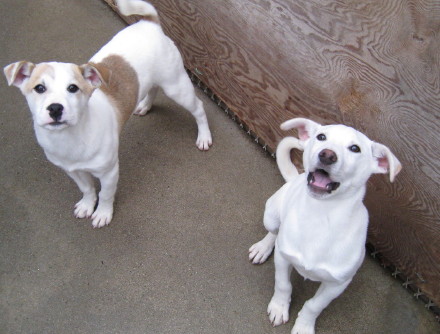 Brutus
(the white puppy on the right) Brutus's sister 、
Bounty
will also be there.
They are both only 3 months old, really cute and full of energy. They've already learned "Sit" and "Stay", now they're working on "Lie down"!
Oh,
Goldilocks
is coming too!
スポンサーサイト
| PR/Event | 14:06 | comments:0 | trackbacks:0 | TOP↑