2008.11.30 Sun
Adoption Fair ☆ Conclusion
Although I (K.K.) couldn't go to our regularly-held adoption fair at
Green Dog
on Sunday, November 23rd, I got the scoop and photos of what happened from other staff who attended.
◆
Dream
◆
She was a bit shy but there were a lot of people who said how cute they thought she was, and she was very pleasant when being held. She trailed behind the staff and slept near us often, but not when others had treats for her. She would go up to strangers and say, "Pleeease gimme that".
◆Cookie◆
Cookie made friends with everybody who came. There were lots of people interested, probably because he kept approaching people, pleading for a pat, and lying belly-up. He gave a few yips, requesting to be held, and was very positive throughout.
◆Maru◆
Until the first visitors started coming, Maru enjoyed running around and playing, but as soon as it started to get crowded, he stayed close to the wall or with his friends. However, it wasn't as if he was completely rigid – he did wander around some. (Hmm…was he just trying to get away?) Well, he ate his food anyway, and we expect scared Maru-kun will get used to these kinds of environmental changes soon.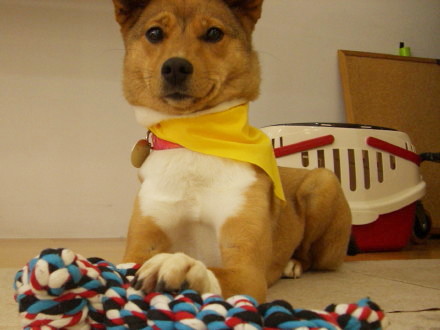 ◆
Natsu
◆
Natsu, who also played very happily with the staff in the garden, tended to lower her tail when in front of all our visitors. But still, she is quite an eater. The moment a snack appeared, Natsu came bounding up out of nowhere, properly sitting and saying "Me me me!". She was fine eating food from people she was meeting for the first time. Hooray for her being a piggy eater!
Compared to Natsu's usually behavior at ARK, today was completely calm. (Putting on your Sunday best, aren't you, Natchan?) There were some people who were impressed by Natsu's poised behavior, so they'll come to meet her again to try to get to know her more lively side, that we see in her at ARK.
◆
Zas
(left) &
Zeus
(right)◆
When people they didn't know came by, they barked, but they did play quite happily, and ate food from people they were coming into contact with for the first time. Zeus went up to just about anybody, but Zas held back some. Right now at ARK, they are both living together in a larger group, so when they are together they feel brave and bark, but alone they get nervous. When they find their new family, I think they'll begin to change and adjust. Anyway, they're only four months old. We're looking forward to seeing them grow and develop.
◆Mya-chan◆
While there were times he hid in the bed, when we opened the door to his cage he came out, and seemed interested in his surroundings when being held. And when we were cleaning up, he came out of his cage and walked around as usual. That's Mya-chan for you. Oh, and of course he ate the food we brought!
◆
Monchan
◆
(Oops, no photos!)
She is a cat after all. She got nervous due to the change in environment and hid in her bed. But she ate her food, and when her name was called, she peeped her head out and acted sweetly as always. There was someone who came specifically to see Monchan, but they already had a few pet cats… Do you remember? Monchan has a mean side when it comes to other cats, so we'd like her to be
kept by herself
.
This time, we didn't find any adopters for the dogs and cats, but I guess it good practice socializing. If there is any animal you are interested in, don't hesitate – contact ARK now!!
スポンサーサイト
| PR/Event | 17:31 | comments:0 | trackbacks:0 | TOP↑